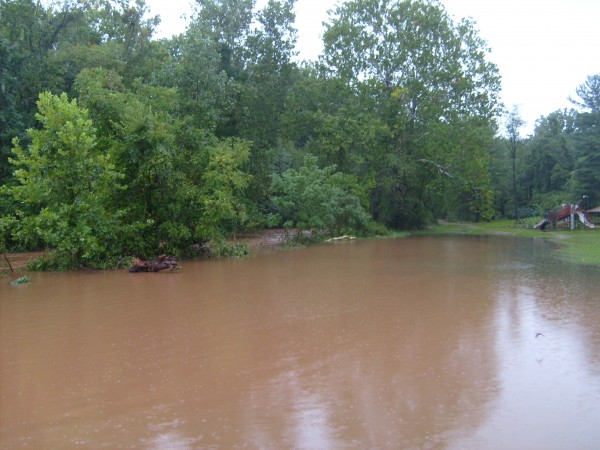 State Health officials are reminding people who've suffered flood damage to get their homes and businesses dried out as quickly as possible.   Damp conditions can be a breeding ground for mold, and it can grow it as little as two days after flooding occurs. 
Spokeswoman Christine Cronkright says porous materials can trap mold, so you should dispose of damaged items such as paper, ceiling tiles, wallboard, sheetrock, and carpeting.
You should clean and disinfect damp areas and keep them well ventilated, allowing them to dry naturally to kill all molds.   Cronkright says make sure you protect yourself while cleaning moldy areas. This means wearing gloves, such as rubber dishwashing gloves and using a mask or respirator to minimize exposure.
Use non-ammonia soap or detergent or a commercial cleaner in hot water to clean flood-damaged areas.  Disinfect with a solution of no more than one cup of bleach in one gallon of water.  Never mix bleach with ammonia, because the fumes are toxic.
Cronkright says sheetrock should be removed to at least 12" above the high water mark.  You should allow the area to dry for at least 2 to 3 days before replacing any damaged materials. Make sure you check all areas that may have become wet, including ceiling tiles and wallboard.
Don't forget to document all of your flood damage before cleaning, taking photos of the damaged areas of your property.
Mold spores in large numbers can cause allergic reactions, asthma episodes, infections and other respiratory problems. People who are at higher risk from the effects of mold include infants and children, senior citizens, people with compromised immune systems, pregnant women and people with existing respiratory conditions.
For more information, resources and tips for clean up after floods, visit the department's website and click on "PA Post-Flooding Information and Resources".
https://www.pamatters.com/wp-content/uploads/2011/09/Picture-0071-e1315859189192.jpg
450
600
PAMatters
http://www.pamatters.com/wp-content/uploads/2014/10/logo.png
PAMatters
2011-09-12 15:32:50
2011-09-12 15:32:50
Pennsylvania Health Department Warns of Potential Mold Growth in Flooded Properties