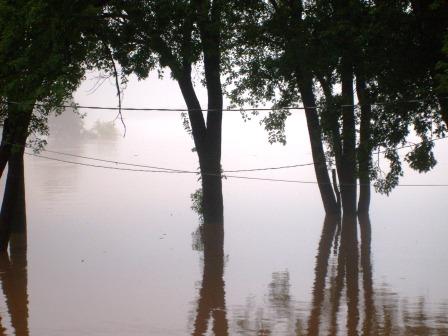 Flooding continued along the Susquehanna River, but  the water levels were dropping . The river reached  record levels at Wilkes Barre and other points north. The levels at Harrisburg and Marietta were the highest since Agnes hit in 1972.
The river reached its high points at Harrisburg and Marietta on Friday.   It reached 25.17 at Harrisburg Friday morning and should drop below flood stage later on Sunday. The river reached 58.16 feet at Marietta Friday morning and should drop below flood stage by Monday morning.   The flooding displaced thousands of people and caused devastating damage to homes and businesses along the river.
Ben Pratt, Hydraulic Engineer with the Susquehanna River Basin Commission, says the risk of flash flooding could rise again along streams and creeks if any thunderstorms hit affected areas in the next few days. He says that's because those tributaries are still swollen with the rain that fell from the remnants of Tropical Storm Lee.
Pratt says the Susquehanna should eventually get back to normal levels with little damage to the river. But in the short term, the quality of the water will continue to be affected as the flood flow works its way through the system.
Unofficial rainfall amounts posted by the National Weather Service for September 4-8 range from 3.28 inches in Renovo, Clinton County to 15.2 inches in Elizabethtown, Lancaster County. Dauphin County was also hit hard with totals ranging from 12 to nearly 14 inches and 14.7 inches was reported in Pine Grove, Schuylkill County.
Many towns had to deal with small stream and creek flooding followed by river flooding. In Goldsboro, York County, more than two dozen homes along the river were flooded. The swollen Susquehanna forced Fishing Creek to back up, closing two of the main roads into the river town. The water also nearly filled a railroad underpass, blocking access to several homes and campsites along the river.
People with summer homes on the islands nearby will have to wait until the river begins to go down and debris flow eases, before they can safely access their properties by boat. One man watched along the river Friday morning. He said he had gone to his property on Shelley Island earlier in the week and moved valuables above the 2004 Hurricane Ivan flood level, but after returning, the forecast added another 5 feet to the crest. He was relieved when the forecast was revised down to 25.2 feet at Harrisburg, just a little less than a foot higher than Ivan.
Humans weren't the only ones affected in Goldsboro. As the water inundated back yards, a rooster and three hens took to the sidewalk when their coop was flooded.
https://www.pamatters.com/wp-content/uploads/2011/09/Picture-022.jpg
336
448
PAMatters
http://www.pamatters.com/wp-content/uploads/2014/10/logo.png
PAMatters
2011-09-09 16:27:11
2011-09-10 17:13:25
Flooding Continues but Susquehanna River Receding