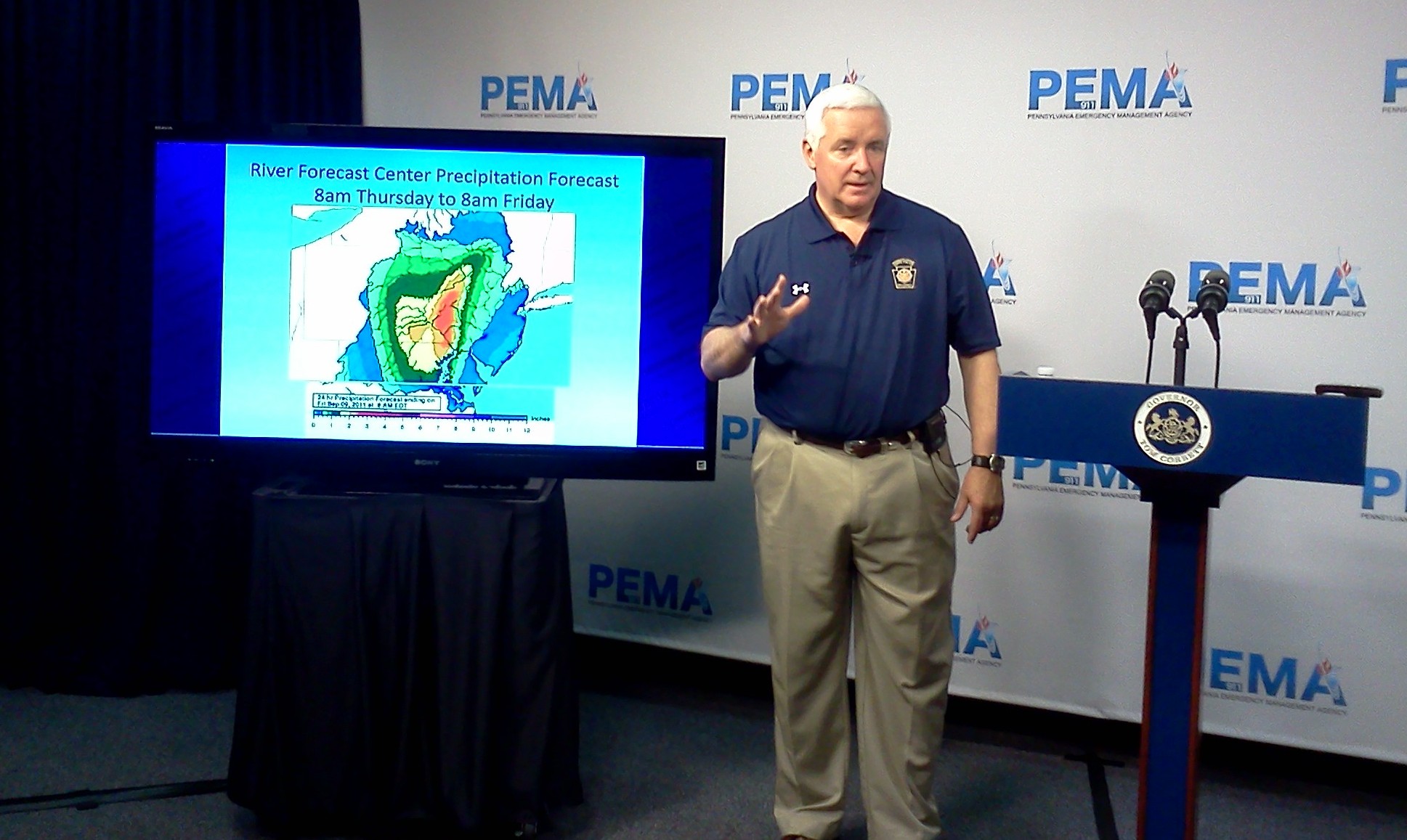 It's a Level One situation at the PEMA emergency operations center in suburban Harrisburg.  That's the highest level possible for a state disaster response.  "By comparison, 11-days ago, Hurricane Irene only reached a Level Two here in Pennsylvania," Governor Tom Corbett said at an afternoon media briefing from the PEMA headquarters.  The last time the emergency operations center was operating at Level One was 9/11/01.   
Governor Corbett says the state faces a clear public health emergency.  "Sewage treatment plants, such as the one near Hershey, are underwater and no longer working," Corbett says, "As you know flood water is toxic."  The governor's message was clear: stay out of the flood water unless you are being rescued. 
So far three deaths have been attributed to the flooding.  Two of those deaths are in Lancaster County; the third is in Dauphin County, though PEMA director Glenn Cannon says they are as of yet unconfirmed.  Almost every town along the Susquehanna River has experienced flooding, but the situation is expected to only get worse until the river crests. 
By Friday morning, 1,200 National Guard troops will have been activated.  400 of them are already assisting in the evacuation and protection of thousands of Wilkes-Barre residents, who are evacuating low-lying areas.  Governor Corbett has been in contact with federal officials, and says FEMA is flying in pallets full of water and MRE's (meals, ready-to-eat).  The supplies are being dropped off at Ft. Indiantown Gap, and will be distributed to the county level as needed.
https://www.pamatters.com/wp-content/uploads/2011/09/Corbett-Flood.jpg
1157
1937
PAMatters
http://www.pamatters.com/wp-content/uploads/2014/10/logo.png
PAMatters
2011-09-08 16:15:54
2011-09-08 16:15:54
PA Braces for Life-Threatening, Record-Breaking Floods