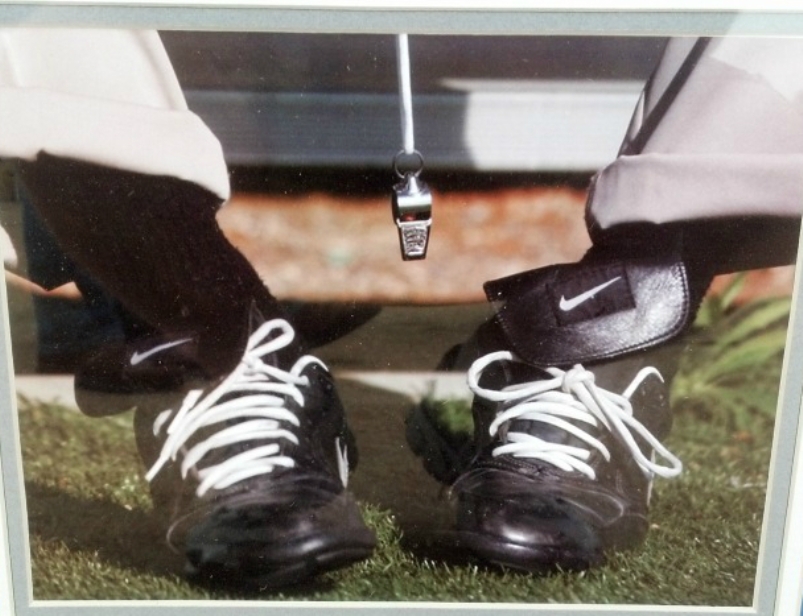 It was another rough week for Centre County, but it ended with a celebration of the arts. With music and food in the backdrop, more than 100 artisans displayed their wares at the People's Choice Festival in Boalsburg over the weekend. The annual event near State College drew a large crowd, with many people still proudly wearing Penn State shirts, hats and other items just days after the Freeh Report cast a shadow on the legacy of former Coach Joe Paterno.
Vendors displayed and sold handmade clothing, jewelry, pottery, furniture, artwork and numerous other items. Among the artist vendors at the festival were Jacob and Betsy Eisenhour of Harrisburg-based "The Stadium Store." Items for sale in the Eisenhours' tent included a large number of framed Paterno-themed works, which were predominantly displayed. The mother and son duo says Paterno items continue to be among their top sellers, and people who stopped by their festival tent this weekend have been "as supportive as ever" of the once-revered head coach. Betsy says she saw many emotional reactions to her son's Paterno artwork this weekend, with some visitors crying and one woman kissing a picture of Paterno while saying "I love you, Joe." Eisenhour also doesn't shy away from her own continued support of Paterno and his legacy. She says she hopes that Paterno's statue remains in its place outside Beaver Stadium. She visited the statue for the first time this past weekend.    The Jerry Sandusky scandal and the ensuing fallout at Penn State hit home for Jacob Eisenhour. In addition to being lined up to design what would have been Joe Paterno's commemorative retirement coin, the talented artist had also been previously commissioned to produce original program cover art for The Second Mile's retirement dinner for Jerry Sandusky. He says he met Sandusky multiple times but never suspected the horrific life the former defensive coordinator was leading in private. Eisenhour says he's saddened that Paterno is now being "more villainized than Jerry Sandusky."
Last week, former FBI Director Louis Freeh released the results of his 8-month independent internal investigation of Penn State University's role in the Sandusky sex scandal. The scathing 267-page report linked Joe Paterno to attempts to cover up Sandusky's sexual abuse of children in 2001. The former head coach died in January at age 85 before he could be interviewed by Freeh's team. Former university President Graham Spanier was also criticized in the report, along with former Athletic Director Tim Curley and former Vice-President Gary Schultz, both of whom are facing criminal charges for what prosecutors say was their failure to report Sandusky to authorities. Spanier has yet to be charged.
Jerry Sandusky is awaiting sentencing for his convictions on 45 counts of molesting young boys, most of whom he met through his Second Mile charity foundation. The former defensive coordinator was convicted in June and is scheduled to be sentenced in September.
https://www.pamatters.com/wp-content/uploads/2012/07/joepa-items2.jpg
616
803
Brad Christman
http://www.pamatters.com/wp-content/uploads/2014/10/logo.png
Brad Christman
2012-07-16 06:55:12
2012-07-16 07:54:18
Joe Paterno Memorabilia Still a Hot Item at Centre County Arts Festival