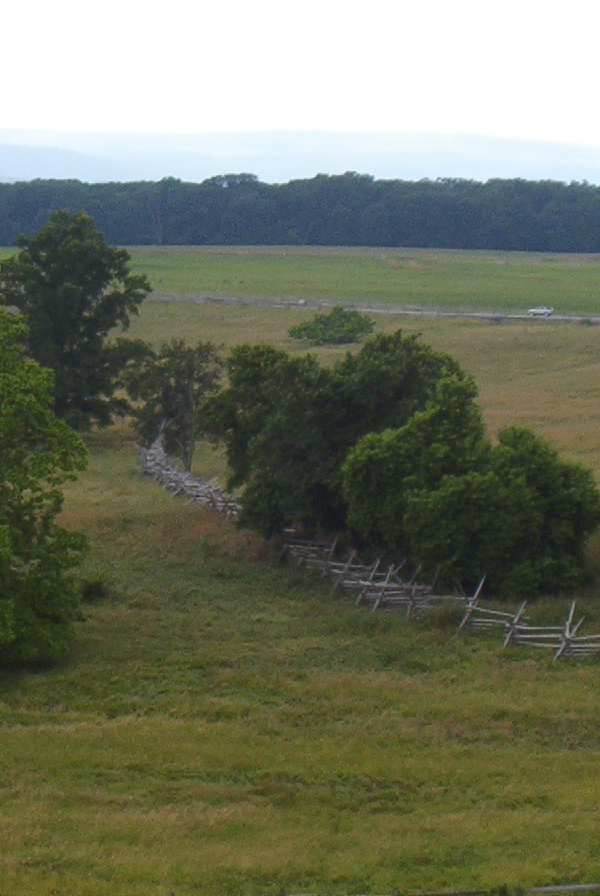 In recognition of the approaching 150th anniversary of the Battle of Gettysburg, PAMatters is sharing daily observations of noted historian  Mark Nesbitt, who brings you the personal stories of the boys and men who were marching into history in the summer of 1863…
Visit Mark's blog at http://markvnesbitt.wordpress.com/ for more Gettysburg stories…

June 27 Gettysburg Campaign: Sightseeing in Enemy Territory
Franklin Horner began his march at 6:00 a.m. They crossed the Potomac into Maryland at Edwards Ferry and camped at the mouth of the Monocacy River. They halt at 4:00 p.m. with plenty of daylight left after putting in 15 miles this Saturday.
Thomas Ware and the boys get a little break and don't leave their camps until 8:00 a.m., marching in the rear of the column. He writes about stopping for 2 hours while the Quartermasters (to collect supplies and pay for them), Sergeants, who are armed, and pioneers (engineers) go forward, probably to clear the way of any possible ambushes by guerrilla forces or militia, now that they are officially in enemy territory.
They reach Greencastle, PA, and Ware notices how "mad & sullen" the townspeople look as they pass. He writes that the town is larger than Washington, GA, the largest settlement near the Ware homestead. The stores are all closed and the hotels are crowded with young men. Again he notices "some nice looking girls dressed very fine as evry [sic] thing is cheap." Some of the girls wore Federal flags in their bonnets. The Confederates burn the railroad depot on the north side of town and destroy some track.
After leaving town they marched through fields of wheat and corn. In spite of General Lee's orders, the men begin to loot bee hives and poultry yards. Officially the army gathered up all the horses and beef cattle.
Another 12 miles brought them to Chambersburg, PA, and Ware likens its size to Atlanta in his home state. He notices again all the young men not in the military, and, "I saw more girls than I have seen at any one time before, some very good looking ones." The town had been placed under martial law with guards posted at every corner, so they couldn't pilfer a chicken or pig for their dinner. After marching 17 miles this day they encamp around three miles from Chambersburg.
This day sees Franklin Horner and his comrades cross the Potomac River about fifty-five miles south of where Thomas Ware crossed it yesterday. While Edwards Ferry can be found today, it no longer has an active ferry boat. Ruins from the landing and support buildings could still be see when I researched the site in the early 1990s.
I arranged the book so that the reader could follow in the footsteps of the two soldiers along modern highways. Ware and Horner are marching through some towns that are accessible to a visitor to Gettysburg. Chambersburg is only 30 miles from Gettysburg; Greencastle just a little farther. Edwards Ferry and Leesburg are a little over an hour's drive. If you are one of the many visitors to Gettysburg, you may want to visit these places, using 35 Day to Gettysburg as a guide.
Reading his entire diary, I was amused at how many times Ware mentions the pretty girls on the march. One gets the impression, by the amount of detail Ware puts into his diary, savoring the local names of the places he passes through and the roads he marches, that he considers this to be the great adventure of his life. Being a young, single man on this great adventure, the maidens of this strange land he comes into as an invader attract his attention.
Apparently, the raiding of beehives and stealing of chickens was widespread enough to be brought to the attention of the commanding general. On June 27, Lee issues General Orders No. 73 from his headquarters in Chambersburg, PA. He sounds like a father gently scolding a spirited child he needs to punish but not break, pleased with the conduct of his troops so far, but realizing that, "There have, however, been instances of forgetfulness on the part of some…"
One thing I forgot to mention earlier. Thomas Ware has a special companion marching along with him in the 15th Georgia. In December 1862, his younger brother Robert transferred from Company B, 6th Alabama Infantry, presumably to be with his older brother and the other Georgians in the regiment. So for six or seven months now, Thomas has had the comfort and support of kin during his ordeals.
It was not unusual, especially in the south, for brothers and cousins to fight in the same unit. Many companies in the Civil War were recruited parochially. Young relatives and friends often enlisted en masse. In an appendix to the book, I list the numerous families who sent two or more sons to serve in company G, 15th Georgia Infantry. The attrition to the families is appalling.
https://www.pamatters.com/wp-content/uploads/2013/06/gettysburg7-battlefield.jpg
896
600
Brad Christman
http://www.pamatters.com/wp-content/uploads/2014/10/logo.png
Brad Christman
2013-06-28 03:51:36
2013-06-28 03:51:36
BLOG SERIES: The Gettysburg Campaign - June 27, 1863