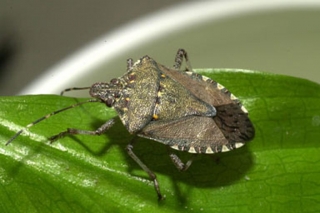 Once Penn State researchers have assembled enough data, they'll be able to better predict where stink bugs will appear.  Entomologist John Tooker is asking Pennsylvanians to report stink bug sightings and damage online.  "People can visit and contribute any observations they may have, whether it's one bug or 10,000 bugs."
Stink bugs do not sting for bite, so they're merely annoying to non-farmers.  However, they have been blamed for destroying large swaths of fruit crops in recent years.
It's not all that different from weather forecasting.  "If we're able to understand why the insects are showing up in say York County," Tooker says, "then maybe we can take that information and help predict when and where they might show up in other counties."
Most of the stink bugs seem to be in the southern tier counties.  While stink bug populations appear to be down this year, Tooker tells us this is the season when adult stink bugs start to become more apparent.
The more people that report stink bug populations to their website, the better success the researchers like professor Tooker will have.  "Citizens around the state have a whole lot more eyeballs than the entomologists do."
https://www.pamatters.com/wp-content/uploads/2012/08/StinkBug2.jpg
213
320
PAMatters
http://www.pamatters.com/wp-content/uploads/2014/10/logo.png
PAMatters
2012-08-07 07:21:06
2012-08-07 07:21:06
Researchers Need Public's Help Tracking Stink Bugs