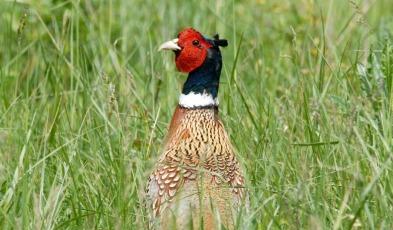 Flooding from Tropical Storm Lee has taken at toll on property owned by the state Game Commission.   Damage is still being assessed, but is expected to be in the millions.
The losses include thousands of pheasants at two Lycoming County game farms, Loyalsock and Northcentral,  that were killed or escaped.  There was also damage to buildings and holding fields at the farms.  
Game Commission Executive Director Carl Roe says nearly 30 to 40 thousand pheasants that had been raised and ready for release for this fall's hunting season have perished or escaped.  He says they're doing what they can to recapture those that escaped, but the losses could total up to 40% of the total pheasant production planned for this year.
Roe says these are significant losses that will force them to re-evaluate fall stocking plans.  He says it's too late in the season to raise additional pheasants or purchase birds from private property owners to replace these losses.  Roe adds the facilities were recently improved using Growing Greener II dollars.  He says the damage could jeopardize plans to double production next year.
There was also road and bridge damage state game lands 12, 36, 57 and 211 in Bradford, Wyoming, Luzerne, Dauphin and Lebanon Counties. Roe says roadways on state games lands 12 and 36 are impassable and several bridges are gone as flood waters washed them away. State game lands 57 had considerable road damage from flooding. State game lands 211   had the old railroad grade washed out in several places.  He says the damage forced postponement of the public tours planned in October for those game lands.
***Photo of Ring Necked Pheasant by Joe Kosack/PGC Photo
https://www.pamatters.com/wp-content/uploads/2011/09/pheasant2.jpg
230
393
PAMatters
http://www.pamatters.com/wp-content/uploads/2014/10/logo.png
PAMatters
2011-09-16 15:54:09
2011-09-16 15:54:09
Flooding From Lee Causes Damage to Game Commission Properties