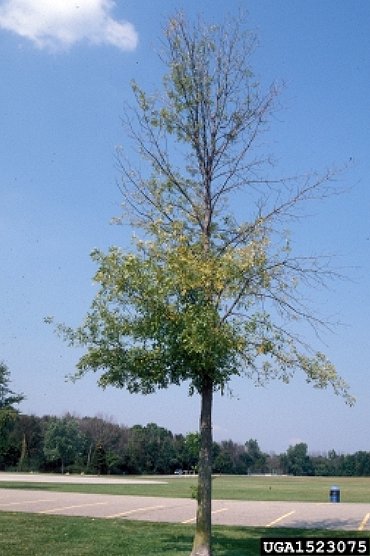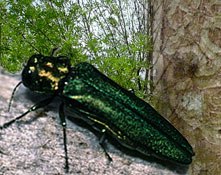 The tree-destroying Emerald Ash Borer has been found in two more Pennsylvania Counties.   Huntingdon and Wyoming Counties have been added to the list where the pest has been found, becoming the 20th and 21st in the state. The Pennsylvania Agriculture Department is asking people not to transport firewood more than 50 miles from where it was purchased to help slow the ash borer's spread.
 Nichole Bucher, Deputy Press Secretary for the  Department,  says it's hard for the average person to notice damage caused by the ash borer, that's why they're encouraging people to burn any wood where they buy it.  She says the beetle can "hitchhike" on pieces of wood, spreading it to other parts of the state.
 Bucher says survey crews are trying to establish the leading edge of the infestation.  They started in May hanging up bright, purple triangular traps on trees throughout the state.  The ash borer is attracted to the traps. The Department asks that people not disturb those traps.
 Bucher says the beetle is destructive to ash trees. The ash borer basically suffocates the tree, cutting it off from air, water and nutrients.  Within about three years of infestation, the tree will be dead.  Ash trees are used in urban landscapes and are popular wood for baseball bats.
 Bucher says the department has a pest hotline. You can call if you believe you have found an Emerald Ash Borer or discovered damage it may have  caused.  You can also call if you find one of the purple traps dislodged.  The number is 1-866-253-7189.
https://www.pamatters.com/wp-content/uploads/2011/07/ashtree.jpg
556
370
PAMatters
http://www.pamatters.com/wp-content/uploads/2014/10/logo.png
PAMatters
2011-07-12 11:03:36
2011-07-12 11:03:36
Tree Killing Pest Found in Two More Pennsylvania Counties