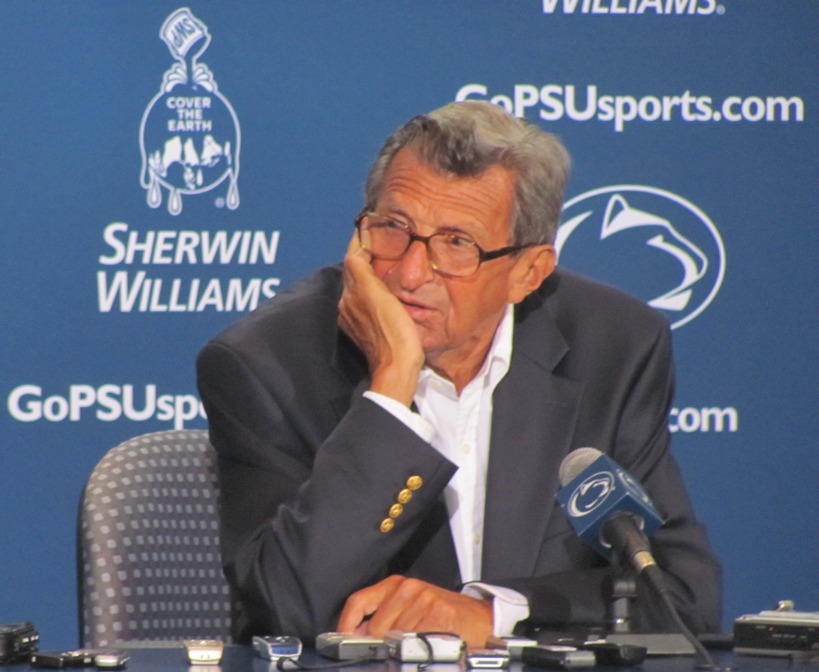 Twelve months ago, Joe Paterno was prepping for his 46th season and leading one of the most respected college football programs in the country.
What a difference a year makes.
On Sunday, Paterno's statue outside Beaver Stadium was dismantled and today NCAA President Mark Emmert dismantled his record, vacating 111 victories from 1998 through 2011. Additional sanctions against Penn State are staggering. They include:
-A $60 million fine (to go into a special fund to aid programs for victims of child sex abuse)
-No bowl games for 4 years
-A reduction in scholarships for 4 years
-A 5-year probation
The vacating of victories means Paterno's win total drops from a record 409 to 298. The NCAA will allow current Penn State  players and recruits to transfer to another school without penalty.
Emmert says the so-called "death penalty," whereby the football program would have been suspended for a year or more, was considered, but the NCAA felt that would punish too many people who had nothing to do with the Sandusky sex abuse scandal.
Meanwhile, Jerry Sandusky sits in prison awaiting his formal sentencing in September for the sexual abuse of young boys.
Additional penalties from the Big Ten Conference were expected today and the Big Ten Council of Presidents and Chancellors issued a statement that included the following language:
Today, we have read the NCAA release on Penn State University.  We note in the release, and have independently confirmed, that Penn State has accepted the factual findings in the July 12, 2012 Report of the Special Investigative Counsel prepared by Louis Freeh and his firm (the Freeh Report).  Based on the findings, as accepted by Penn State, we fully support the actions taken by the NCAA.  Further, following a thorough review of the Freeh Report, the COPC has voted to impose the following additional sanctions on Penn State, effective immediately:
 1.       Censure:  The accepted findings support the conclusion that our colleagues at Penn State, individuals that we have known and with whom we have worked for many years, have egregiously failed on many levels-morally, ethically and potentially criminally.  They have failed their great university, their faculty and staff, their students and alumni, their community and state-and they have failed their fellow member institutions in the Big Ten Conference.  For these failures, committed at the highest level of the institution, we hereby condemn this conduct and officially censure Penn State.
 2.       Probation:  The Big Ten Conference will be a party to the Athletic Integrity Agreement referenced in the NCAA release, and will work closely with the NCAA and Penn State to ensure complete compliance with its provisions over the 5 year term of the Agreement.
 3.       Ineligibility:  As referenced in the NCAA release, Penn State's football team will be ineligible for postseason bowl games.  It will also be ineligible for Big Ten Conference Championship Games for four years, a period of time that runs concurrently with the NCAA postseason bowl ban imposed this morning.
 4.       Fine:  Because Penn State will be ineligible for bowl games for the next four years, it will therefore be ineligible to receive its share of Big Ten Conference bowl revenues over those same four years.  That money, estimated to be approximately $13 million, will be donated to established charitable organizations in Big Ten communities dedicated to the protection of children.
 Penn State University is a great institution and has been a valued member of the Big Ten Conference for more than 20 years.  Since early November 2011, it has been working very hard to right a terrible wrong.   There is more to be done.  The intent of the sanctions imposed today is not to destroy a great university, but rather to seek justice and constructively assist a member institution with its efforts to reform.  From this day forward, as Penn State continues to make amends, the Big Ten conference and its member institutions will continue to engage with them in every aspect of conference membership.
https://www.pamatters.com/wp-content/uploads/2012/07/joepa.jpg
672
819
Brad Christman
http://www.pamatters.com/wp-content/uploads/2014/10/logo.png
Brad Christman
2012-07-23 09:40:30
2012-07-23 09:56:59
Staggering NCAA Sanctions Against Penn State University