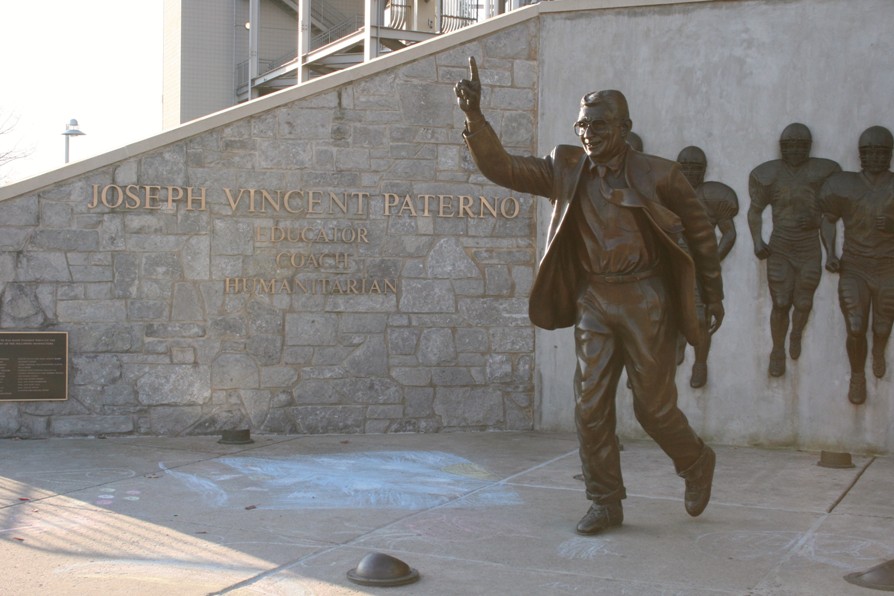 Today is the day Penn State University learns of its fate from the NCAA. In the wake of the Sandusky scandal and the Freeh Report – which detailed a cover-up involving former school President Graham Spanier and former Head Coach Joe Paterno, among others – the school will learn this morning what sanctions it will face in the coming years. Possible penalties include the loss of scholarships, bowl games and television appearances.
NCAA President Mark Emmert is scheduled to make the announcement in Indianapolis at 9:00am (ET). Reports indicate that the so-called "death penalty," which would suspend the entire football program, will not be imposed but the sanctions will be among the harshest ever handed down by the NCAA.
On Sunday, the centerpiece of the Paterno legacy was gone, as a crew removed the statue of the former coach outside Beaver Stadium. That decision was made by university President Rodney Erickson, who said in a statement that the statue had become a "source of division" and an "obstacle to healing." Erickson said Joe and Sue Paterno's names will remain on the library they helped to build.
Meanwhile, Jerry Sandusky awaits sentencing in September for his convictions on 45 counts involving the sexual abuse of young boys. Former Athletic Director Tim Curley and former university Vice-President Gary Schultz are awaiting trial on charges they failed to report the abuse allegations.
https://www.pamatters.com/wp-content/uploads/2012/07/JoePa-statue2.jpg
596
894
Brad Christman
http://www.pamatters.com/wp-content/uploads/2014/10/logo.png
Brad Christman
2012-07-23 05:49:20
2012-07-23 05:49:20
Paterno Statue Removed; NCAA to Sanction Penn State University