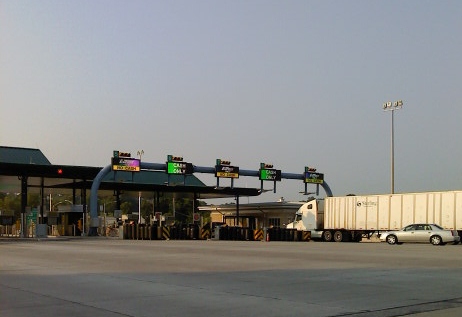 The Pennsylvania Turnpike Commission has approved tolls for next year.   There will be a differential again in 2013 between what E-ZPass customers pay and what cash customers pay.
Tolls for cash customers will rise 10%, but E-ZPass users will pay only 2% more. Turnpike Spokesman Carl DeFebo says it costs less to collect the tolls electronically. With the toll increase next year, the difference between E-ZPass and cash fares will be about 25%.  He says it's currently around 17% on average. He says that means substantial savings for people who sign up for E-ZPass.
DeFebo says the commission has also selected a program manager to lead the potential conversion to all electronic tolling. But he says they're looking at a minimum of 5 years to covert the system.  
He adds even an all-electronic system would still have an option for someone who does not have  E-ZPass. DeFebo says they're looking at some type of video tolling.  That would involve taking a photo of the license plate and sending a bill in the mail to the licensed owner.
DeFebo says the commission has been reducing the number of toll collectors through attrition since E-ZPass began. He says the workforce has been reduced by more than 250 over the past decade.  He says that effort will continue.
DeFebo says you currently can get E-ZPass on line, through AAA and at Giant Eagle, GetGo, Karns and Acme Stores.  He says the commission is negotiating with a couple of major national retail chains to make transponders more available.
https://www.pamatters.com/wp-content/uploads/2011/07/0721111852a.jpg
317
462
PAMatters
http://www.pamatters.com/wp-content/uploads/2014/10/logo.png
PAMatters
2012-07-23 14:53:08
2012-07-23 14:54:39
Turnpike Sets 2013 Tolls, Takes Step Toward Possible All Electronic System