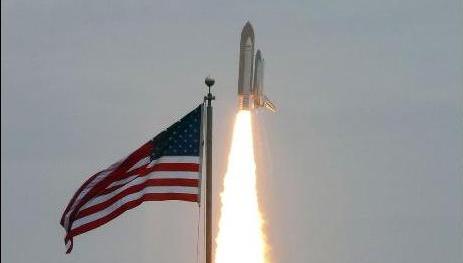 The space shuttle Atlantis blasted off just a couple of minutes later than scheduled, finding a window of good weather to head off on its final mission. STS-135 is the last flight of  NASA's space shuttle program, which began in 1981.
Christopher Ferguson is the commander of the historic mission. The Philadelphia native is a graduate of St. Martha Elementary School, Archbishop Ryan High School and Drexel University.  He joined NASA in 1998 after a career in the Navy.
We spoke to Ferguson in a reporter's round robin by telephone prior to the mission.  He said every commander feels a little bit of pressure to make sure the mission goes well, and this one is no exception.  He says despite the attention surrounding the mission,  they still have a very tight timeline and a complex mission to pull off.
Ferguson says the fact the shuttle program  is ending in July 2011 is no surprise, we've known about this since President Bush laid forth his vision for space exploration after we lost  the shuttle Columbia in 2003.  While Ferguson is sad to see the program go away, he compared it to selling your first car.  He says there's a little piece of you that doesn't want to let it go, but  in order to go on to bigger and better things, you have to sell the one you have now.  He says in order to take the next step in the space program, we're going to have to shut down the shuttle.  
Ferguson hopes the attention being paid to the historic flight will re-energize the public's enthusiasm for the space program. He says NASA will have a very narrow window where it's thrust into the limelight. He think's it's imperative that the taxpaying public and Congress capitalize on that momentum to make sure our path to low earth orbit is charted very, very clearly.  
He says even as the shuttle program ends, there will still be Americans on the International Space Station.  Ferguson  says the U. S. has contracted with our Russian partners to take Americans to the ISS.
By the way, Ferguson tells us  he's a huge Phillies, Flyers, Eagles and 76ers fan.   He still has family living in the Philadelphia area.
Ferguson will have three months of post flight activities when the mission is over, and still has not set his future plans now that the shuttle program is ending.
**All photos courtesy of NASA.
https://www.pamatters.com/wp-content/uploads/2011/07/567312main_launch2_800-6002.jpg
263
463
PAMatters
http://www.pamatters.com/wp-content/uploads/2014/10/logo.png
PAMatters
2011-07-08 15:12:32
2011-07-08 15:12:32
Space Shuttle Atlantis Launches Just about on Schedule