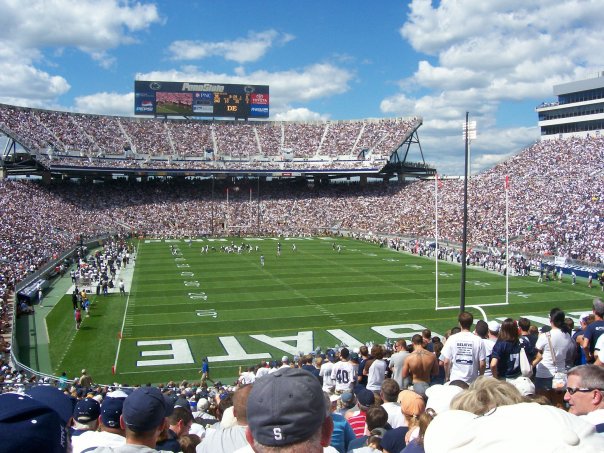 It took just five days for the Jerry Sandusky sex abuse scandal to rock Penn State University to its core.  Just after 10 o'clock Wednesday night, the announcement came that Graham Spanier was out as PSU president and Joe Paterno was relieved of his duties as head football coach.  "These decisions were made after careful deliberations and in the best interests of the university as a whole," said Board of Trustees Vice Chairman John Surma. 
In a statement, Spanier called it an honor to serve Penn State for 16 years as president.  Spanier says he was stunned to learn that any predatory act might have occurred in a university facility.  "The acts of no one person should define this university.  Penn State is defined by the traditions, loyalty and integrity of hundreds of thousands of students, alumni and employees," the statement continued.
84-year-old Coach Joe Paterno had been at Penn State for 61-years.  In his 46-years as head coach, he racked up 409-victories, more than any other coach in Division I college football history.  Paterno's complete statement reads:
"I am absolutely devastated by the developments in this case.  I grieve for the children and their families, and I pray for their comfort and relief.
I have come to work every day for the last 61 years with one clear goal in mind: To serve the best interests of this university and the young men who have been entrusted to my care. I have the same goal today.
That's why I have decided to announce my retirement effective at the end of this season. At this moment the Board of Trustees should not spend a single minute discussing my status. They have far more important matters to address. I want to make this as easy for them as I possibly can.
This is a tragedy. It is one of the great sorrows of my life.  With the benefit of hindsight, I wish I had done more.
My goals now are to keep my commitments to my players and staff and finish the season with dignity and determination. And then I will spend the rest of my life doing everything I can to help this University."
The Penn State Board of Trustees has named Dr. Rodney Erickson as the interim president.  Erickson previously served as vice president and provost.  Long-time Paterno assistant coach Tom Bradley has been named interim head football coach.  The Penn State football team plays host to Nebraska this Saturday.  It is their final home game of the season.
https://www.pamatters.com/wp-content/uploads/2011/11/BeaverStadium3.jpg
453
604
PAMatters
http://www.pamatters.com/wp-content/uploads/2014/10/logo.png
PAMatters
2011-11-10 07:48:10
2011-11-10 07:48:10
Paterno Fired, Spanier Out