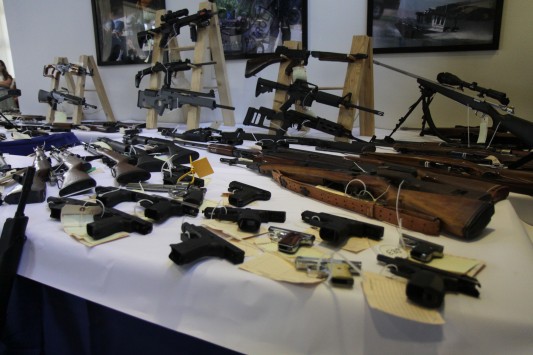 A group of Pennsylvania mayors gathered on the state capitol steps, Tuesday, to denounce legislative efforts they say would undercut the progress they've made to protect public safety. 
At issue are bills which would give gun owners and the National Rifle Association (NRA) legal status to sue municipalities that have enacted local gun control ordinances, and allow the plaintiffs to collect legal fees from the municipalities.
"That is really doing nothing except slapping back cities that are trying to crack down on gun trafficking, and I don't understand why they would possibly want to do that," says Max Nacheman, director of the gun violence prevention group CeaseFire PA. 
State Rep. Daryl Metcalfe (R-Butler), who sponsored HB 1523, says the goal is simply to put teeth behind existing state law that preempts local governments from passing their own gun control laws.  "I can't believe the brazen arrogance of these elected officials that will violate state law, and then stand up and claim that the state legislature is doing something that's going to harm taxpayers, when we're trying to actually make sure the law's enforced,"  Metcalfe tells Radio PA. 
In a February letter to legislative leaders, some 160 mayors said that asking a gun owner to notify their local police department when their gun is lost or stolen is hardly too much to ask.  Over 30-municipalities have passed such ordinances, and CeaseFire PA says six NRA lawsuits have been rejected because the courts have found they were not "adversely affected."  The bills in question would change the legal rules however. 
Metcalfe is optimistic that his bill will come up for a House vote this session.
https://www.pamatters.com/wp-content/uploads/2012/03/Guns3.jpg
355
533
PAMatters
http://www.pamatters.com/wp-content/uploads/2014/10/logo.png
PAMatters
2012-03-27 14:30:06
2012-03-27 14:30:06
Mayors Seek to Block Gun Bills