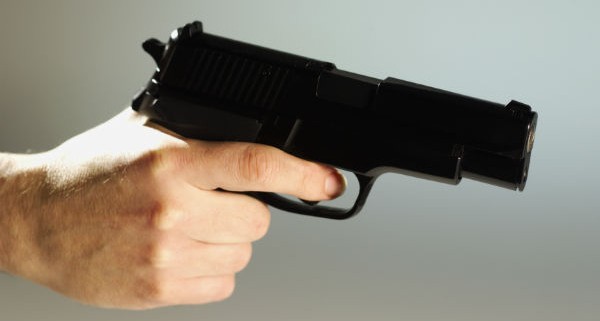 Death by Numbers
By Rachel McDevitt
If you've ever been confused by the clashing accounts of America's gun violence problem, you're not alone. One side says firearm deaths are far too high and gun control measures will help cut it down. The other side says violent crime is dropping and more gun laws will make us less safe. Who's right? After weeks of research, the answer seems to depend on which numbers you use.

This story begins with President Barack Obama's executive order in January, which aimed to close the gun show loophole on background checks for firearm sales, and calls to state lawmakers to gauge their reactions.
Republican State Representative Will Tallman of Cumberland County introduced a bill about a year earlier that would prohibit the regulation of firearms through an executive order by the president of the United States. He described the order as a gross federal overreach, and added:
"Death by firearm is way down. It's at an all-time low. It's at 0.2 per 100,000 population—that's a 2015 number—and it was 2.5 in 1932."
Tallman said he got that number from the Pennsylvania gun rights group, Firearm Owners Against Crime. Their president had listed that figure in a rebuttal to the president's order, but the number is referring to firearm accident, not all death. A 2013 article from Politifact also confirms that fatal accidents with firearms are at a very low point.
You can't use accidents to talk about all firearm deaths, but according to the president and co-founder of Firearm Owners Against Crime, Kim Stolfer, the other numbers are also in their favor.
"Well, first of all, gun crime and homicides are down over half of what they were in 1990," Stolfer said. "We don't have an expanding gun crime problem, we don't have an expanding violent crime problem, we have a contracting situation with violent crime. And we have never had more people carrying firearms in the history of this country. 13.6 million Americans carry a firearm on a daily basis."
Deaths by firearm are actually not down by half since 1990, but they have seen a major decrease.
Dr. Alfred Blumstein, a researcher at Carnegie Mellon University who studies criminal justice phenomena and policies, said the trend of gun deaths has experienced peaks and valleys for decades.
"To claim something is at an all-time low, especially when it comes to gun violence, that's a tough claim to make," Blumstein said.
According to a searchable Center for Disease Control database, there were 16,218 homicides committed with a firearm in 1990. These homicides peaked in 1993 with more than 18,000. Blumstein said the spike was largely due to the crack cocaine epidemic hitting big cities. Then murders by firearm tapered off, but it has not been a completely downward trend. The U.S. hit a low in the year 2000, with 10,801 homicides, then that number rose to 12,791 in 2012. In 2014, 10,945 homicides were committed with a gun.
This trend was only visible to Radio PA reporters by entering queries for each individual year in the CDC database. Looking for a complete chart online is difficult. More difficult is knowing if you can trust the source to be unbiased.
If you think it's easier to get a real scope of the problem of gun violence at the local level, think again.
Captain Gabriel Olivera with the Harrisburg City Police Department was in the middle of learning a new records management system when he spoke to Radio PA. The crime data they have right now is just not clear. Officers know general trends from being out on patrol, but perception is one thing, and numbers are another. Olivera is hoping the new data system will put the department on a path to definitively reduce crime.
"Being able to put it in a mapping system, we may see something a little bit different than what we already know," Olivera said. "We may know that in a specific area, there may be quite a few robberies, but when you put it in a map, that may actually show a pattern."
The city of Lancaster launched a new data management system a few years ago. Lieutenant Todd Umstead said they switched systems partly because the FBI's Uniform Crime Reporting system was just not giving them the clear picture they wanted. For example, the department reports aggravated assaults with a firearm, but when officers go back to look at data from past years, it's not clear what happened in those incidents, if someone was actually shot, or how many.
"It's not the best system, it's a federal system," Umstead said, "and every state has different wordings of laws, different ways of collecting information and then when you get into the individual municipalities, there's even more fluctuation."
Umstead now keeps a running total of the number of people actually hurt by guns in the City of Lancaster so he has a better idea of the scope of gun violence there.
It's important to note that advocates for more gun regulations expand the definition of "gun violence" beyond crime. More than 33,000 people died by firearm in 2014, and about two-thirds of them were suicides. President Obama said his executive action aims to curb those as well.
Firearm Owners Against Crime dismisses the number of suicides as one that will not be affected by more laws. They cite other countries with higher per capita suicide rates than the U.S., but more restrictive guns laws, such as Japan. However, researchers say people who attempt, but are not successful with, suicide very often go on to recover and not attempt again. Suicide by gun rarely allows for a second chance.
For Shira Goodman, the executive director of CeaseFirePA, a gun control advocacy organization, none of the numbers can be overlooked in this debate, especially suicide. She said each death has an effect on families and communities.
"For us, the general trends matter," Goodman said, "but if we are still having in this country 33-34,000 gun deaths a year, two thirds of which are suicide, we have a problem. We have a problem which we know how to solve. We can solve some of it with access to guns and making sure that people that shouldn't have them don't get them. We know how to do it, we're not doing it. We can do stuff with education, we can do things with enforcement and tougher prison sentences. So there are ways to deal with these problems."
Unlike the number of homicides, the total number of deaths by firearms per year has not dropped as dramatically: 34,000 in 1981, 38,000 in 1991, 29,000 in 2001, and 33,000 in 2014.
So where does the information gathered so far take us? For public health researcher Dr. Susan B. Sorenson at the University of Pennsylvania, it leads to a question.
"What are you willing to accept? If you say that crime rates with guns, homicides with guns have dropped—absolutely. That's accurate," Sorenson said. "Have they dropped enough? Have they dropped enough that people feel safe? Have they dropped such that we're not concerned when we go to the grocery store, to a movie theater, when we send our children to school? That's an important values question."
Dr. D. Scott McCracken, a family physician in York, also looks at gun deaths and gun violence as a public health issue: a big and complicated problem that can only be solved by a multifaceted approach over years. Smoking is an example. Dr. McCracken is not willing to accept much when it comes to gun violence. He argues that there should be "never events."
"For example, let's go to Ebola," McCracken said, "There should be never, ever be a transmission of Ebola from a patient to a provider, OK? So, I think we accepted that during the Ebola epidemic. When episodes like that happened, it was appropriately and seriously considered and dealt with. There should be never events with gun violence. A child should never die from an accidental gunshot wound. It should never happen. Ideally, it would never happen even in an intentional situation, but an accident, we should do everything we can to prevent those accidents from happening."
"A never event should be a mass killing on the scale of San Bernardino," he continued, "We should have a system that effectively reduces the possibility of that event to as close to zero as possible. You never can get to zero for anything. There's always going to be some accidents, there's always going to be some outliers. But our efforts, also in a public health sense, need to focus on some of those areas where we consider them never events."
McCracken said getting to zero starts with more peer-reviewed, evidence-based research on a national level. He said the CDC would be the ideal source for this, but it can't study gun violence the way it studies smoking because of a Congressional action two decades ago.
"All they can track at this point are numbers of mortality, and there's no data behind that to go into more detail," McCracken said. "So, if you were to compare their report on gun violence to, say, their report on smoking tobacco and its effect on public health, you'll find substantially less detail in the report on gun violence. And that's limited by an act of Congress that started in 1996 and the CDC continues to conservatively interpret that rule because of fear of retribution from other areas. And, reasonable fear."
At Penn, Dr. Sorenson says there is a lot of information available, but researchers and policy makers need more. The CDC has the National Violent Death Reporting System online where you can search for victims of gun violence by age, ethnicity, and place of injury. It's there for 32 participating states and Pennsylvania is one of them. The FBI has its Supplementary Homicide Reports where you can see the types of relationships between attacker and victim and surrounding crimes to the homicide.
Researchers can count dead bodies, gunshot wounds, and calls to police, but all these things happen after a gun is purchased. Sorenson said there is far less information available for the beginning of the process, such as information on sales, the effectiveness of background checks, and if people like those accused of domestic violence are slipping through the cracks.
Sorenson said when you're looking for good data, it's best to steer clear of advocacy groups, because their information will likely back up their original message. This advice was echoed by Kim Stolfer of Firearm Owners Against Crime and Shira Goodman of CeaseFirePA, who both look at the same federal data, but reach different conclusions.
Sorenson stressed that the country needs impartial research on gun violence or else it's left with dueling ideologies, and that does not make for good policy.
"When we address gun policy, in addition to looking at advocacy groups, I really hope that we will bring in research," Sorenson said, "and I hope that we will pay attention to what people want, because at the core of our society we want representative government."
There are many examples of gun violence numbers being manipulated, exaggerated, and interpreted to mean vastly different things depending on which side of the issue a person or organization stands. These polarized accounts can exist because of the lack of reliable, irrefutable data, thoroughly researched by a trusted, impartial source.
To this reporter, these are the takeaway facts of this report: we have more guns in the United States than ever before. We had fewer homicides committed with guns in 2014 than at the peak of the crack wars. Since 1981, the number of people dying from a gunshot wound has not dipped below 29,000.
Do we have a problem? Who's right? The answer ultimately lies with you, and what you are willing to accept.
https://www.pamatters.com/wp-content/uploads/2016/04/gun1.jpg
340
600
PAMatters
http://www.pamatters.com/wp-content/uploads/2014/10/logo.png
PAMatters
2016-04-01 10:38:41
2016-04-01 10:43:04
Death by Numbers - A Special Report from Radio PA