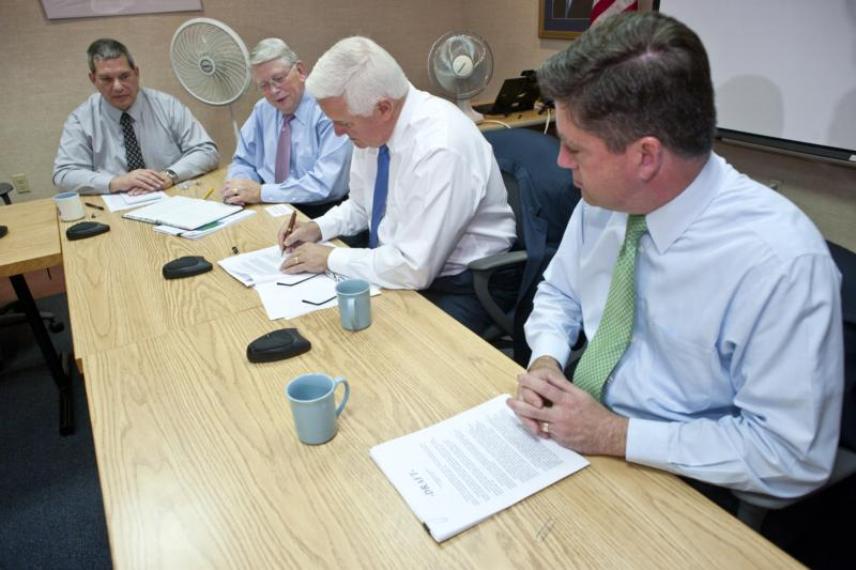 By declaring a statewide disaster emergency, Governor Tom Corbett says state agencies will have the flexibility they need to provide help to local emergency responders.  It also authorizes the state to use all resources and personnel as necessary.   1,500 National Guard troops have been pre-positioned in central and eastern PA.  "Hopefully we won't have to use them, but they're going to be in the area and be there."  Corbett said at a Friday afternoon briefing. 
The governor urges every Pennsylvania citizen to heed the safety advice and warnings being issued by emergency managers across the eastern half of the state.  "You prepare for the worst, and you pray for the best," Corbett says of Hurricane Irene. 
Southeastern Pennsylvania, in particular, has been saturated by rain.  Philadelphia has already set a record for monthly rainfall totals with 13-inches – before Irene even arrives.  But, Corbett cautions that nobody should take the situation lightly.  "Folks in the central part of the state, I'd be watching this storm.  I'm going to be watching this storm, very, very closely." 
Governor Corbett tells reporters he's cleared his scheduled through Monday, and will be splitting time between the Governor's Residence and PEMA emergency operations center in Harrisburg.  Pennsylvanians can find all the resources they need for emergency planning online.
https://www.pamatters.com/wp-content/uploads/2011/08/Corbett5.jpg
570
856
PAMatters
http://www.pamatters.com/wp-content/uploads/2014/10/logo.png
PAMatters
2011-08-26 15:39:33
2011-08-26 15:43:06
Corbett Signs Disaster Declaration Ahead of Hurricane Irene