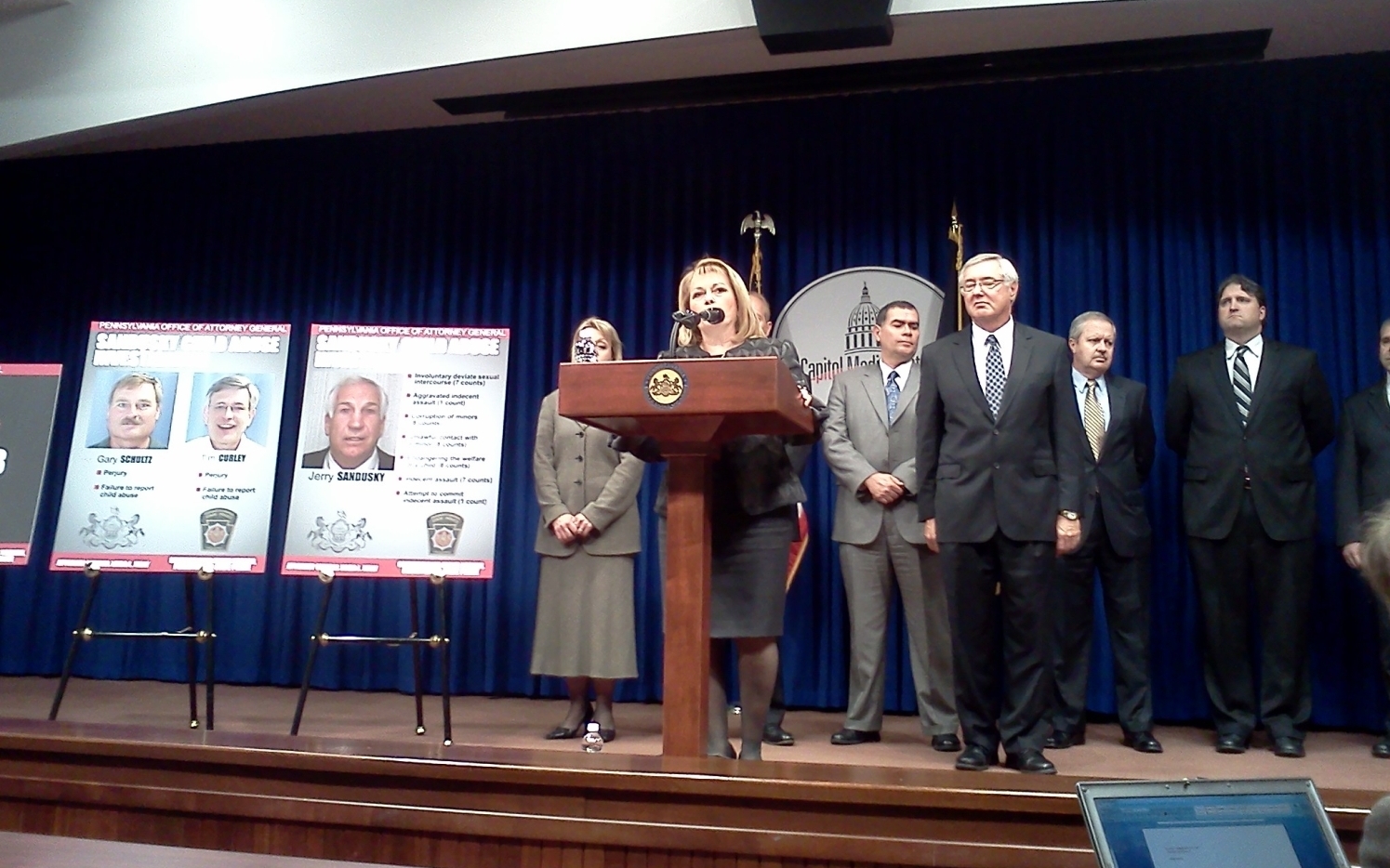 The allegations against 67-year-old Jerry Sandusky, the former defensive coordinator at Penn State, span roughly a decade from the late 1990s through 2009.  The 23-page grand jury presentment goes into graphic detail of the alleged sexual assaults of young boys, both while Sandusky was coaching and after his retirement.  Attorney General Linda Kelly says they've identified six of the eight young victims discussed in the presentment, all of whom Sandusky met through his involvement in The Second Mile, a charity he founded in 1977.
Equally significant to the sexual assault charges Sandusky faces, Kelly says, are the alleged roles of two school administrators charged with perjury and failure to report.  "Their inaction likely allowed a child predator to continue to victimize children for many many years," Kelly says. 
Penn State Athletic Director Tim Curley and Senior Vice President Gary Shultz each face one count of perjury and one count of failure to report.
"This is not a case about football, it's not a case about universities," says State Police Commissioner Frank Noonan, "It's a case about children who have had their innocence stolen from them, and a culture that did nothing to stop it." 
Administrators Arraigned:
While Sandusky will be prosecuted in Centre County, where the alleged assaults took place, Curley and Shultz will be prosecuted in Dauphin County, where the alleged perjury took place.  Both were arraigned in a suburban Harrisburg magistrate's office Monday afternoon. 
Curley's lawyer, Caroline Roberto, proclaimed her client innocent and says they will vigorously fight the charges in court.  She calls perjury prosecutors' charge of last resort.  "They charge it when they can't prove the person did anything wrong."  Roberto calls the duty to report charge a summary offense, similar to a speeding ticket.  Under the law, Roberto says the duty to report didn't even apply to the situation at Penn State. 
The Attorney General's office disagrees.  "Given the circumstances here, with information that was provided to top administrators about a sexual assault in the locker room, on the Penn State campus, we feel very confident that those administrators are responsible under the law," says spokesman Nils Frederiksen. 
Paterno Not a Target:
Asked about coach Joe Paterno's grand jury testimony, Attorney General Linda Kelly says the 84-year-old coach has been cooperative and is not a target at this point.  The grand jury report indicates that a grad student who witnessed a sexual assault in 2002 called Paterno to share what he had seen.  "We believe that under the statute he had an obligation to report it to school administrators, and he did that," Kelly says of Paterno's involvement.
In a statement, Paterno says he's shocked and saddened by the allegations contained in the grand jury report.  "I understand that people are upset and angry, but let's be fair and let the legal process unfold," the statement reads.  "In the meantime, I would ask all Penn Staters to continue to trust in what that name represents, continue to pursue their lives every day with high ideals and not let these events shake their beliefs nor who they are." 
https://www.pamatters.com/wp-content/uploads/2011/11/Sandusky2.jpg
934
1495
PAMatters
http://www.pamatters.com/wp-content/uploads/2014/10/logo.png
PAMatters
2011-11-07 16:14:31
2011-11-07 16:18:46
Attorney General Speaks Out in Sandusky Sex Abuse Scandal