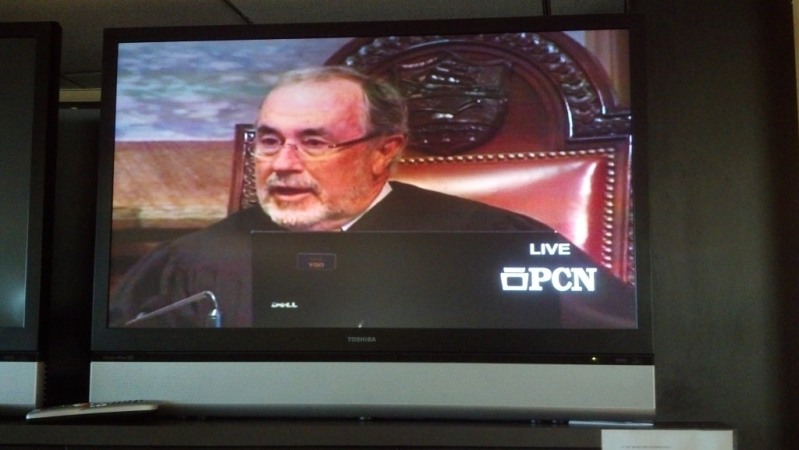 History is being made as the Pennsylvania Supreme Court opens its session today with arguments for and against Pennsylvania's new Voter-ID law. In addition to considering a case that is receiving national attention, the high court is allowing its proceedings to be aired on live television on the Pennsylvania Cable Network.
Billing themselves as the oldest Supreme Court in the nation, dating back more than 300 years, PA's justices are considering two major cases today: Voter-ID and the state legislative boundaries which were drawn, and then redrawn, during the redistricting process of 2011-2012. The Court overturned a previous legislative map in January, leaving this year's elections to maps drawn in 2001.
Under the Voter-ID law, also known as Act 18, voters are required to present a valid photo ID at the polls before voting. Critics say it puts an undue burden on segments of the voting population. If the law is upheld, it will be in effect for the November 6th election.
Today's session is also unusual in that one of the 7 Justices, Republican Joan Orie Melvin, has had to step aside to fight corruption charges. That leaves the court split 3-3 along assumed party lines, opening the door for a possible tie ruling. In that event, the Commonwealth Court ruling that refused to issue an injunction to block Voter-ID would stand.
PCN will be airing arguments in both cases throughout the day. The Supreme Court is meeting in Philadelphia for today's session.
http://www.pamatters.com/wp-content/uploads/2012/09/pcn1.jpg
450
799
Brad Christman
http://www.pamatters.com/wp-content/uploads/2014/10/logo.png
Brad Christman
2012-09-13 08:58:07
2012-09-13 08:58:07
Voter-ID Arguments Begin