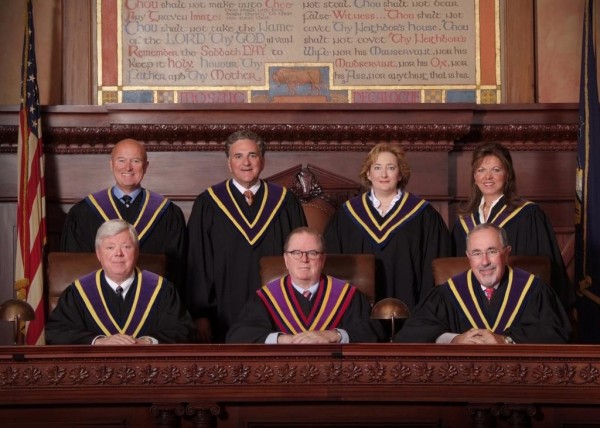 Six months after it was signed into law, the Pennsylvania Supreme Court was hearing arguments over the state's controversial new Voter ID law in its Philadelphia chambers.  The entire session was broadcast live, statewide via PCN TV. 
The appellants' lawyer David Gersch argued that the new photo identification requirements violate Pennsylvanians' right to vote by disenfranchising many and burdening others.  "On Election Day, if Act 18 is not enjoined, then voters will be faced with the serious threat of losing the right to vote," Gersch argued.  "By contract, if the injunction is entered, the harm to the Commonwealth is negligible."
Gersch contends Voter ID is no mere election regulation because it does not guarantee that all qualified electors will be able to get the identification they need to cast a ballot.  Gersch did, however, acknowledge that all Voter ID laws are not necessarily unconstitutional.  "The vice is not requiring photo identification; the vice is in requiring photo identification that people do not have, and have a hard time getting."      
The appellants are seeking a preliminary injunction so that the status quo remains in place through the November 6th General Election.  A full trial on the merits of the statute would then be held at a later date. 
A Commonwealth Court judge has already denied the preliminary injunction, writing in his opinion that he sees no reason why Pennsylvania voters need be disenfranchised. 
The state's lawyers stressed the findings of the lower court throughout their arguments, stating that the plaintiffs failed to show either that they will succeed on the merits of their claims or that they would suffer irreparable harm.  Attorney John Knorr also pointed out that all of the plaintiffs named in the lawsuit have either obtained a valid photo ID or have the means to do so.  "They couldn't come up with one plaintiff, one actual human being, who would be harmed by this statute." 
"Mr. Gersch said we should have a process in place so that everybody has the chance to get this ID, and we have that," Knorr told the court as he praised the efforts of PennDOT and the Department of State. 
A panel of six justices must decide the law's fate with just over 50 days to go until the election.  With one justice currently suspended, the court is comprised of three Republicans and three Democrats.  In the event of a deadlock, the Commonwealth Court decision would be upheld and the new photo ID requirements would be in place on Election Day.
https://www.pamatters.com/wp-content/uploads/2011/10/SupCourt2010-e1319042727586.jpg
428
600
PAMatters
http://www.pamatters.com/wp-content/uploads/2014/10/logo.png
PAMatters
2012-09-13 15:03:19
2012-09-13 15:07:18
High Court Hears Voter ID Arguments, Decision Pending