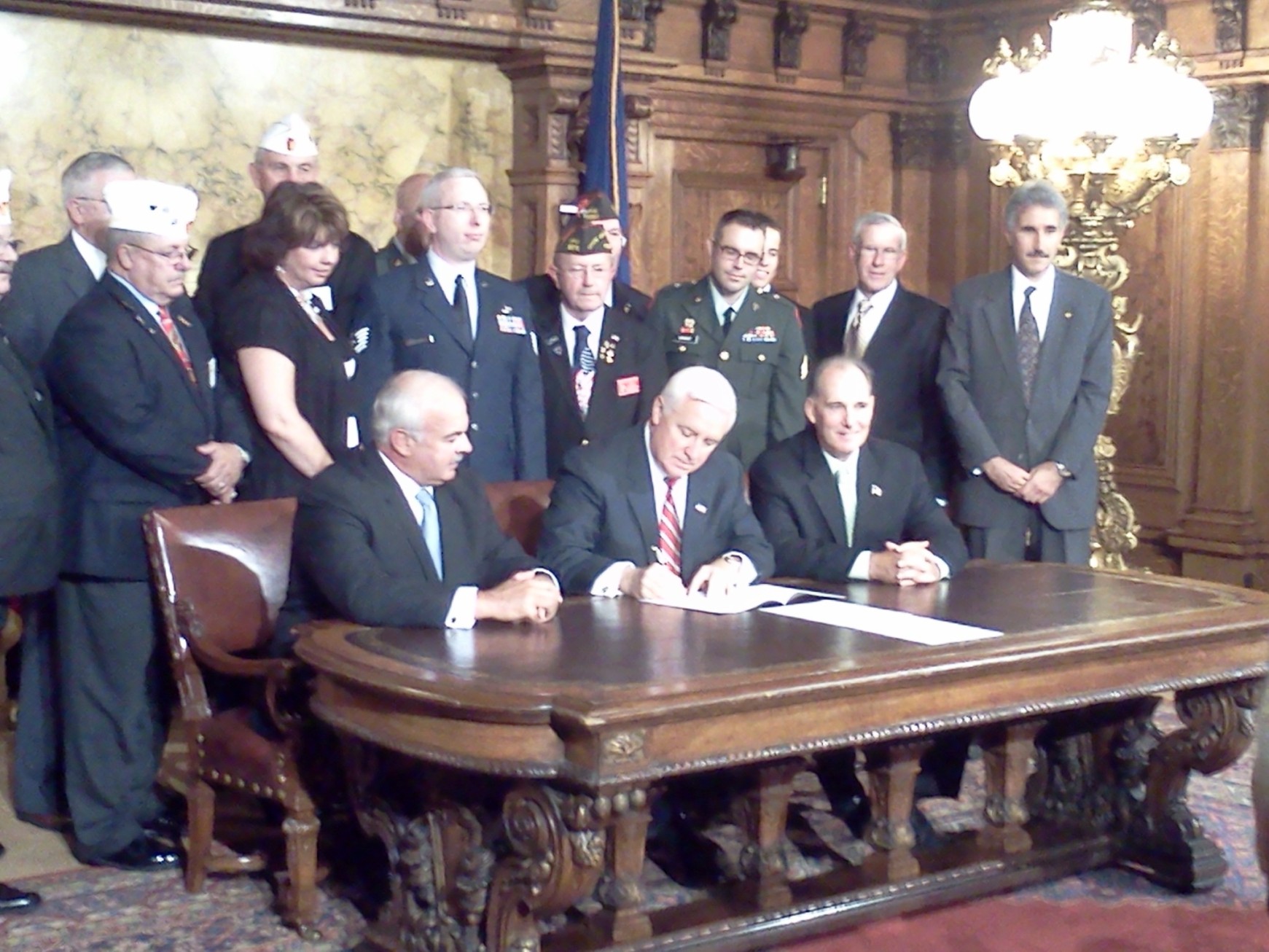 The latest law signed by Governor Tom Corbett requires that at least one member of the Civil Service Commission be a veteran of the United States Armed Forces.  "This legislation will say that Pennsylvania's veterans will finally have what they deserve, a constant representation on the state's Civil Service Commission," says State Rep. Ron Marsico (R-Dauphin), the bill's prime sponsor. 
 "We discovered that the Pennsylvania Civil Service Commission has not always met its goal of seeing that the veterans get the extra consideration that they earned," Governor Corbett said as he thanked Auditor General Jack Wagner for calling attention to the problem. 
It was a 2008 audit that first found that state agencies skirted veterans' preference requirements and failed to consider eligible veterans for 569 vacant positions.  The state's Veterans' Preference Program provides that veterans who pass the civil service exam receive 10 additional points, and have mandatory hiring preference if they have one of the top three scores for the position being considered. 
Auditor General Jack Wagner says the new law is especially important during a time when the unemployment rate among returning Iraq and Afghanistan veterans is now 10.9% in Pennsylvania.  That's much higher than the statewide unemployment rate of 8.2%.  "A veteran on the commission will ensure that the civil service system works properly for all of Pennsylvania's veterans," Wagner said in a written statement. 
Just before signing the new law, Governor Corbett announced that he's nominated John Stevens to the commission.  "He is a man who knows both the purpose of civil service and the needs of our veterans," Corbett says.   Stevens, a Centre County resident, is a veteran of both the Pennsylvania National Guard and US Army.  His nomination is subject to Senate confirmation.
https://www.pamatters.com/wp-content/uploads/2011/10/CivlService2.jpg
1306
1741
PAMatters
http://www.pamatters.com/wp-content/uploads/2014/10/logo.png
PAMatters
2011-10-08 05:35:26
2011-10-07 13:43:37
New Law Puts Veteran on Civil Service Commission