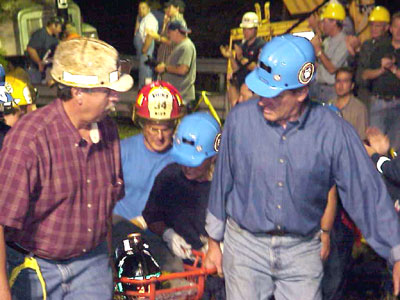 It's hard for Bill Arnold to believe a decade has already passed.  He vividly recalls stepping outside to see why there were folks with flashlights walking around his Somerset County farm on July 24th, 2002.  That move made him the third person on the scene of what would later became a miraculous mine rescue.
Arnold thinks the world "miracle" is overused in today's society, but tells Radio PA there's no other way to describe the "9 for 9" Quecreek Mine rescue.  "This was a matter of life and death."
Today, Arnold is humbled to be the caretaker of the rescue site and to serve as executive director of the nonprofit Quecreek Mine Rescue Foundation.
Nine miners were trapped some 240-feet underground for four days that July.  The accident took place just months after, and miles away from the Flight 93 crash site in western Pennsylvania.  Arnold says, "It was a turning point in the hearts of Americans to realize that miracles still do happen, and we can do great things when we pull together for a united cause."
The man leading the rescue ten years ago was Joe Sbaffoni, now the director of the Pennsylvania Bureau of Mine Safety.  Sbaffoni says coal mine safety has improved greatly since Quecreek.  A 2009 law gave the Mine Safety Board the authority to update its own regulations as needed instead of waiting on lawmakers to respond, and Pennsylvania hasn't had an underground mine fatality in more than three years.
"Things are going to happen.  I mean you're dealing with Mother Nature, conditions change by the minute.  But if you do things you're supposed to… always follow safe work practices, you've got a darn good chance of coming home at the end of each shift," Sbaffoni says.  "That's the number one goal."
Saturday's celebration ceremony will cap-off a week's worth of anniversary events at the Quecreek Mine rescue site in Somerset, PA.  It's also the day they will cut the ribbon on a brand new visitors' center.  The site attracts more than 10,000 visitors a year.
https://www.pamatters.com/wp-content/uploads/2012/07/Quecreek1.jpg
300
400
PAMatters
http://www.pamatters.com/wp-content/uploads/2014/10/logo.png
PAMatters
2012-07-27 13:44:22
2012-07-27 13:44:22
Marking Ten Years since the Quecreek Mine Rescue