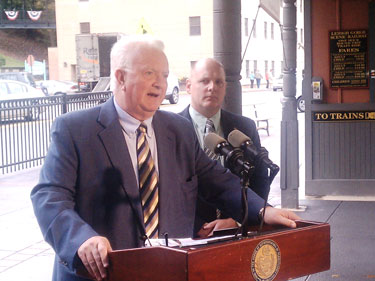 If Pennsylvania privatizes the state store system, one lawmaker is suggesting the money be spent on transportation.   Representative Jerry Knowles  (R-Berks/Schuylkill) is calling it the IFF Act; that stands for Infrastructure Future Fund.  He says it means if we sell the state stores, the money should go to roads and bridges.
Knowles says under his proposal, every penny from a sale of state stores would go to construction or reconstruction of roads and bridges.   He says the money would go into a fund to be spent over a five year period, in increments of 20%, plus the interest gained.
Knowles says it would help create jobs, spur economic growth and build a brighter future.  He says he can think of no way to better spend the money than on roads and bridges. He says it would be one time spending over five years that would have an effect on all Pennsylvanians for at least the next 20 years.
Knowles says it's not the cure-all, but it would be a piece of the puzzle in addressing transportation problems, while creating jobs and benefiting all Pennsylvanians. He says the state needs to look at a combination of ways to address its transportation funding problem.
Representative Knowles says he has about 3 dozen co-sponsors for HB2020, including the majority chairman of the State House Transportation Committee.  He has also discussed the idea with the Governor's office.    
https://www.pamatters.com/wp-content/uploads/2011/10/124_Knowles-with-Heffley-hp.jpg
281
375
PAMatters
http://www.pamatters.com/wp-content/uploads/2014/10/logo.png
PAMatters
2011-10-17 15:44:49
2011-10-17 16:06:22
Lawmaker Suggests If We Sell The State Stores, We Spend The Money On Roads