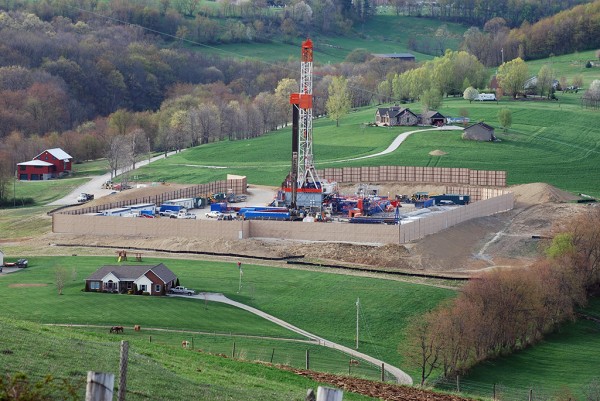 Pennsylvania is now a net exporter of natural gas, and has the potential to account for 17.5-billion cubic feet of natural gas, per day.  President of the Marcellus Shale Coalition, Kathryn Klaber, says that would be one-quarter of the nation's natural gas production.  The new study, The Pennsylvania Marcellus Natural Gas Industry: Status, Economic Impact, and Future Potential, was conducted by Penn State researchers, and commissioned by the Marcellus Shale Coalition.    
Kathryn Klaber says PA's shale industry has blown its projections out of the water.  "At the beginning of 2010, it was projected that Pennsylvania would be producing a billion cubic feet equivalent  per day by the end of 2010, and we saw that it was double that."   
The study also projects that Marcellus Shale development could support 156,000 PA jobs this year, and more than 256,000 PA jobs by 2020.  "Every dollar that's invested in building one of these wells involves more people to do that work, to run the equipment, and to do everything throughout the supply chain," Klaber said. 
But, the Pennsylvania Budget and Policy Center contends those jobs numbers are overstated.  "Overall, we welcome the gas industry's contribution to Pennsylvania's economy, but with this study, the industry continues to overstate the economic benefits and underestimate the costs of increased drilling in the Marcellus Shale," PBPC director Sharon Ward said in a statement. 
The study is being released less than a week after the governor's Marcellus Shale Advisory Commission voted for a series of 96-recommendations, including a local impact fee.  "The industry and the Marcellus Shale Coalition has been very clear of its support of an impact fee that's competitive, that's styled to address the unmet needs of local governments," Klaber said in an interview with Radio PA.
https://www.pamatters.com/wp-content/uploads/2011/05/marcellus_shale.jpg
401
600
PAMatters
http://www.pamatters.com/wp-content/uploads/2014/10/logo.png
PAMatters
2011-07-21 10:01:28
2011-07-21 10:01:28
Industry-Backed Study Details Benefits of Marcellus Shale Boom