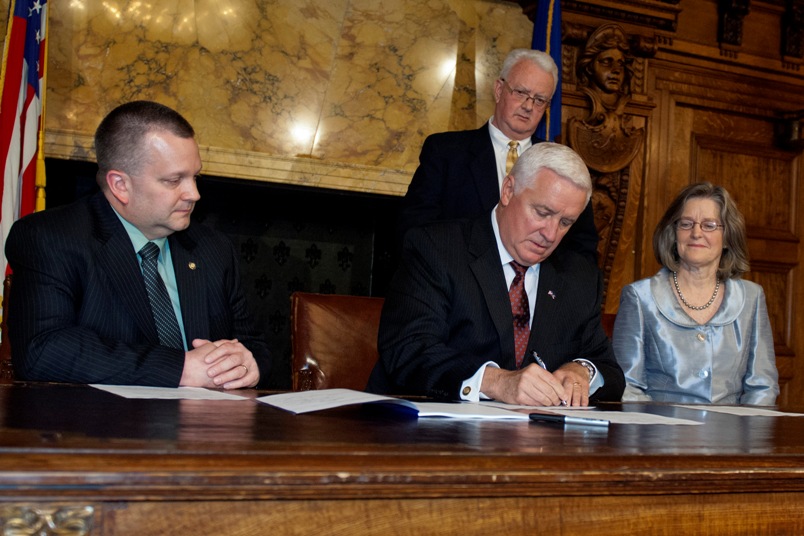 Governor Tom Corbett last evening signed legislation that will require all voters to produce a photo ID starting with the November general election. The governor signed the bill the same day it received final legislative approval following three days of emotional floor debate in the state House of Representatives.
    The new law takes effect immediately and will be rolled out on a test basis for the primary election on April 24th. Come November, however, the ID requirement will be in place on a permanent basis. Supporters say the effort will help crack down on voter fraud, but critics say it's a solution for a non-existent problem that will disenfranchise many voters, especially the poor and the elderly.
    Acceptable forms of ID at the polling place will include a driver's license, a student ID issued by a Pennsylvania college or university or an ID from a Pennsylvania care facility.
    Opponents are vowing to challenge the new law in court.
    As part of the law, PennDOT will issue free photo IDs to anyone in need of such identification for voting, but applicants would need to supply the department with proper documents, such as a birth certificate. That service is already available today according to Governor Corbett. A public information campaign is also getting underway.
    President Obama's re-election campaign issued a statement overnight criticizing Pennsylvania lawmakers for "passing a costly bill to address a non-existent problem."
https://www.pamatters.com/wp-content/uploads/2012/03/voterID-sign.jpg
536
804
Brad Christman
http://www.pamatters.com/wp-content/uploads/2014/10/logo.png
Brad Christman
2012-03-15 08:31:21
2012-03-15 08:31:21
Governor Tom Corbett Signs Voter ID Law