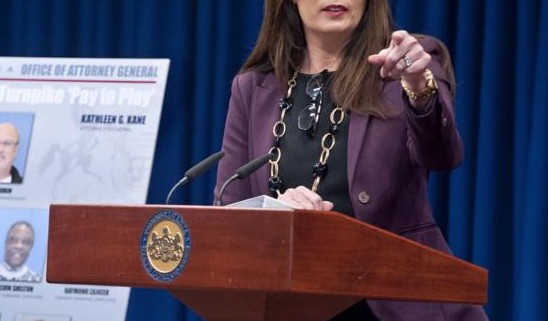 A years-long grand jury investigation finds that in order to get big Pennsylvania Turnpike contracts… you had to pay-to-play.  Eight men now face criminal charges: one former lawmaker, five former Turnpike Commission officials and two businessmen.  The biggest name in the bunch is former state Senate Democratic Leader Bob Mellow, who's already serving a federal prison term on corruption charges.  Others charged include former Turnpike CEO Joseph Brimmeier and former Turnpike Commissioner Mitchell Rubin. 
"According to the charges, those who pay-to-play have sought and been rewarded with multi-million dollar Turnpike contracts and the public has lost untold millions of dollars," says Attorney General Kathleen Kane who announced the grand jury's findings on Wednesday. 
Kane says the Turnpike created its own fiefdom, whereby officials forced vendors to make hefty contributions to the political campaigns of their choosing.
Joining Kane in the Capitol Media Center was State Police Commissioner Frank Noonan, who encourages the public not to paint all state employees & officials with the same brush of corruption.  "There were numerous state employees who tried to stand up for the right things to do," Noonan says.  "They were terminated.  They received poor evaluations and they were isolated.  They knew something was wrong but they couldn't do anything about it." 
'The right thing' is what the new CEO says the Pennsylvania Turnpike Commission is doing today.  In a statement, Mark Compton says he's troubled by today's news:
"If charges against former Turnpike employees are indeed proven, we certainly cannot – and will not – defend that.  But I can say these actions definitely don't represent the hard-working men and women who keep our road open and safe for customers…."  Compton's statement goes on to point to a number of accountability reforms enacted at the Turnpike in recent years. 
All eight defendants will be prosecuted in Dauphin County; the investigation is ongoing.
https://www.pamatters.com/wp-content/uploads/2013/03/Pay2Play2-e1449002949394.jpg
534
548
PAMatters
http://www.pamatters.com/wp-content/uploads/2014/10/logo.png
PAMatters
2013-03-13 13:28:36
2013-03-13 13:28:36
Charges Reveal Pay-to-Play History at Turnpike