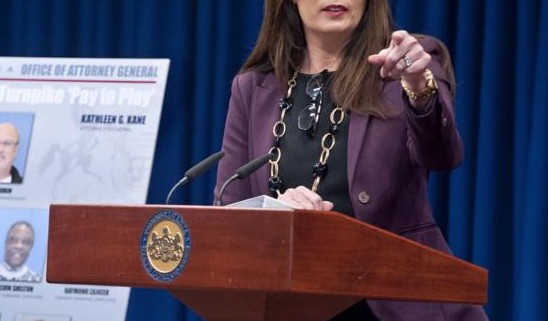 It's the state Attorney General's job to defend the constitutionality of PA laws in court when they are challenged. Such a challenge is now underway by the ACLU regarding Pennsylvania's version of DOMA – the Defense of Marriage Act, which bans gay marriage in the Commonwealth.
Attorney General Kathleen Kane says, however, she will not defend that law on behalf of the state, instead turning the case over to Governor Tom Corbett's lawyers. Kane says she believes the law to be unconstitutional and therefore cannot ethically defend it. She says any lawyer – herself included – has a fundumental obligation to withdraw from a case when there is disagreement with the client.
Kane says her office is empowered to turn cases over to the Governor's Office of General Counsel and have them litigate cases when the Attorney General determines that is in the best interest of the Commonwealth.
Kane's announcement Thursday drew praise from the left, as supporters of gay marriage gear up for the ACLU's lawsuit against the Commonwealth, but state Republican Chairman Rob Gleason had a different take:
"The people of Pennsylvania elect citizens to carry out constitutional responsibilities based on the tradition that no one is above
the law," Gleason said in a relased statement. "It is unacceptable for Attorney General Kathleen Kane to put her personal politics ahead of her taxpayer-funded job by abdicating her responsibilities."
https://www.pamatters.com/wp-content/uploads/2013/03/Pay2Play2-e1449002949394.jpg
534
548
Brad Christman
http://www.pamatters.com/wp-content/uploads/2014/10/logo.png
Brad Christman
2013-07-12 04:54:48
2013-07-12 04:54:48
Pennsylvania Attorney General Bows Out on DOMA