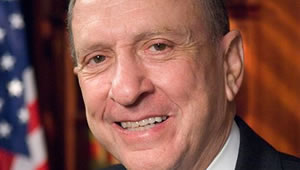 Former U.S. Senator Arlen Specter, who towered over Pennsylvania politics for decades, has passed away after an extended battle with cancer. Specter lost his fight after announcing last summer that he was once again diagnosed with non-Hodgkins Lymphoma. It was Specter's third time around battling the disease.
From his work with the Warren Commission, to the Clarence Thomas Supreme Court confirmation hearings, to his work in the U.S. Senate over 30 years, Specter's role in American history can not be denied. He often served as a political lightning rod due to his moderate stances, culminating in his switch from the GOP to the Democratic party in 2009, after which he would lose a 2010 primary fight with Joe Sestak, essentially ending his Senate career after three decades.
Specter was first elected to the Senate in 1980 after serving as a prosecutor in Philadelphia and as special Counsel to the Warren Commission. Specter is credited with developing the controversial "single bullet theory" adopted by the commission in the JFK assassination. In the Senate, his position on the powerful Judiciary Committee placed Specter at the center of several high-profile nomination fights, including those of Robert Bork and Clarence Thomas.
Specter briefly ran for president in 1996, centering his campaign on a proposed flat income tax. The nominee that year would be Bob Dole, his fellow Lawrence, Kansas native. He was Pennsylvania's longest-serving United States Senator and an avid squash player who often challenged high-profile opponents, including a match with the Duchess of York, Sarah Ferguson.
Specter is survived by his wife Joan, two sons and four grandchildren.
https://www.pamatters.com/wp-content/uploads/2012/10/Arlen-Specter.jpg
170
300
Brad Christman
http://www.pamatters.com/wp-content/uploads/2014/10/logo.png
Brad Christman
2012-10-14 14:29:03
2012-10-14 14:30:35
Arlen Specter Dies at 82