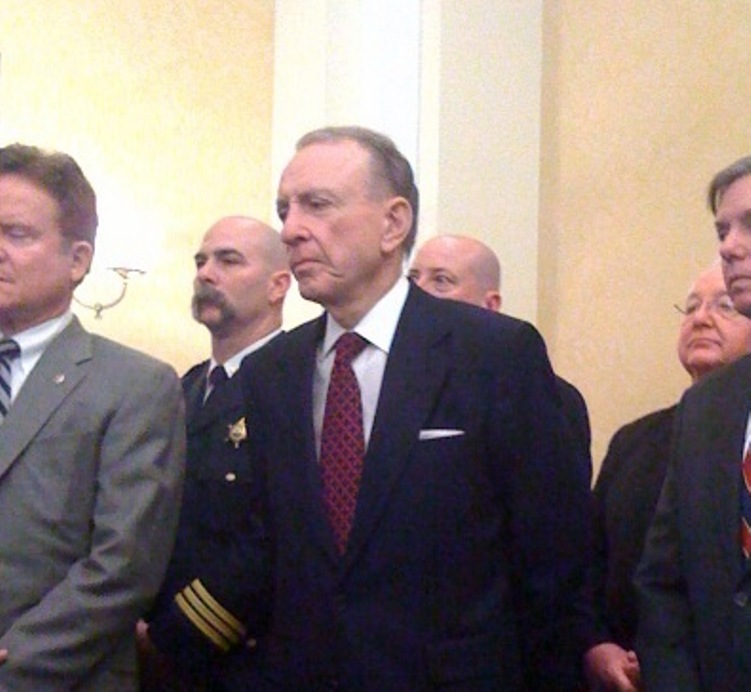 President Barack Obama:
"Arlen Specter was always a fighter.  From his days stamping out corruption as a prosecutor in Philadelphia to his three decades of service in the Senate, Arlen was fiercely independent – never putting party or ideology ahead of the people he was chosen to serve.  He brought that same toughness and determination to his personal struggles, using his own story to inspire others.  When he announced that his cancer had returned in 2005, Arlen said, "I have beaten a brain tumor, bypass heart surgery and many tough political opponents and I'm going to beat this, too."  Arlen fought that battle for seven more years with the same resolve he used to fight for stem-cell research funding, veterans health, and countless other issues that will continue to change lives for years to come.  Michelle and I send our thoughts and prayers to Joan and the rest of the Specter family."
Vice-President Joe Biden:
Jill and I are deeply saddened. Arlen Specter was a great Senator who lived his life the way he died, with dignity and courage. He was my friend and I admired him a great deal.  For over three decades, I watched his political courage accomplish great feats and was awed by his physical courage to never give up.  Arlen never walked away from his principles and was at his best when they were challenged.  Jill and I are thinking of Joan at the moment – she was an incredible partner through his life journey. Our hearts go out to Shanin and Stephen and all who were deeply touched by his life.  
Governor Tom Corbett:
"For more than five decades, Arlen Specter lived a life devoted to public service on behalf of the people of Pennsylvania and the United States. Pennsylvania has lost a political figure whose career stretched from Philadelphia's City Hall to the chambers of the U.S. Senate. We are saddened to hear of his death."
U.S. Senator Pat Toomey:
"A man of sharp intelligence and dogged determination, Sen. Specter dedicated his life to public service and the commonwealth of Pennsylvania. His impact on our state and public policy will not be forgotten. My wife Kris and I send our thoughts and prayers to Joan and the entire Specter family."
Pennsylvania Republican Party Chairman Rob Gleason:
"The Republican Party of Pennsylvania extends its deepest sympathies to the friends and family members of former U.S. Senator Arlen Specter.  Senator Specter will always be remembered for his many years of dedicated public service."
Pennsylvania Democratic Party Chairman Jim Burn:
"Senator Arlen Specter was a true Pennsylvania institution whose record of fighting for our Commonwealth is unmatched. Senator Specter's contributions to Pennsylvania and the United States will leave a lasting legacy. Our thoughts and prayers are with Senator Specter's family during this difficult time." 
PA Speaker of the House Sam Smith (R-Jefferson):
"Arlen Specter was always a fighter who loved the battle over public policy. He loved Pennsylvania, and he loved public service. While I did not always agree with some of Senator Specter's decisions, he was always willing to listen about local problems and try to help fix them. He was a strong advocate for the state's interests while in Washington, and the Commonwealth lost one of its most dedicated public servants today. I share my thoughts and prayers with Senator Specter's family and friends at this difficult time."
https://www.pamatters.com/wp-content/uploads/2012/10/specter2.jpg
692
751
Brad Christman
http://www.pamatters.com/wp-content/uploads/2014/10/logo.png
Brad Christman
2012-10-15 04:54:04
2012-10-15 04:54:23
Notable Reactions to the Passing of Arlen Specter (1930-2012)