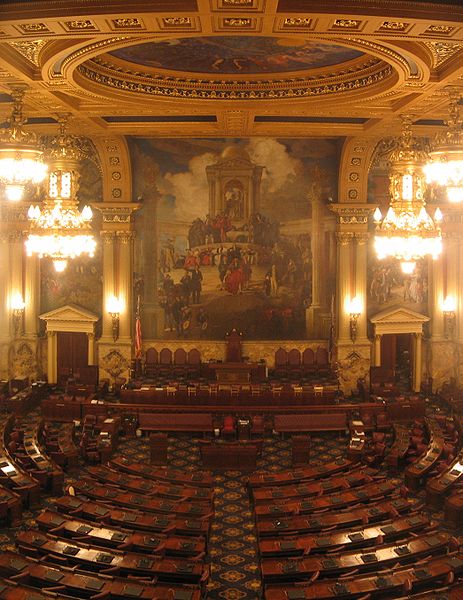 The state house will take a break from its summer break to return to voting session on Monday.  A piece of the budget package needs to be finalized.
The House passed the fiscal code on July 1st, after adding an amendment regarding payday lending.   The language indicated that the Senate and House majority leadership intended to pass legislation establishing a new schedule of rates and charges by October 31st.
The house adjourned until September, with only a non-voting day on the  schedule for July 8th to sign bills and finish up other business.   But on July 3rd, the Senate stripped out the payday lending language and sent the fiscal code bill back to the house. On the same day, the senate reluctantly approved the public welfare code, as amended by the house. Language on Medicaid expansion added by the senate had been stripped out by the house.
The state budget secretary warned that lack of final action on the fiscal code could have negative effects on state government. Governor Tom  Corbett asked legislative leaders to pass it as soon as possible.  The code includes language authorizing the spending of hundreds of millions of dollars, including some funding for higher education and additional money to help Philadelphia's struggling public schools.
After house leadership looked at whether final action could wait until September,   Speaker Sam Smith called the house back for a voting session at 1 pm on July 15th.
The delay in final passage of the fiscal code has led some to debate whether the budget for this fiscal year was really on time. The Governor did sign the General Fund budget before the start of the new fiscal year.
Franklin and Marshall College Political science professor Terry Madonna sees the dispute between the State House and Senate over the fiscal code a sign of serious distress between the two chambers.   There were also big differences between the house and senate over key items in Governor  Corbett's agenda; liquor privatization and transportation funding. Neither won final approval before lawmakers took their summer breaks.
https://www.pamatters.com/wp-content/uploads/2011/05/Pennsylvania_State_Capitol_House_Chamber.jpg
600
463
PAMatters
http://www.pamatters.com/wp-content/uploads/2014/10/logo.png
PAMatters
2013-07-12 16:31:29
2013-07-12 16:32:22
State House Returns to Voting Session on Monday