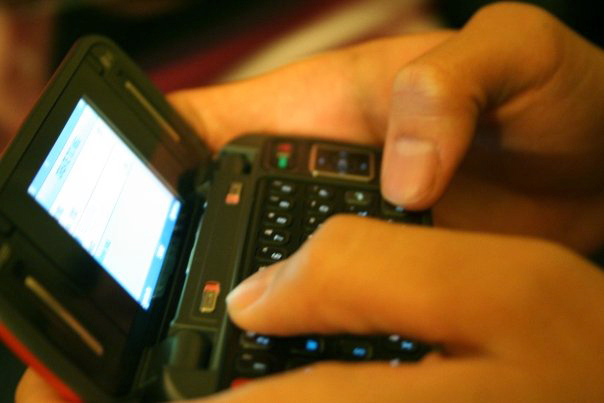 The State House voted overwhelmingly in favor of legislation that creates the offense of teen "sexting."  The bill would apply to nude photographs distributed among teenagers, via cell phones and even computers.  The prime sponsor is State Rep. Seth Grove (R-York), who says the legislation will make teens think before they "sext."  At the same time, Grove says, it would provide a more appropriate punishment than what's allowed for today.  He says current law treats teens' "sexting" as a serious felony under child pornography laws.  His bill (HB 815) would make the crime a second degree misdemeanor.  "It ensures that students don't ruin the rest of their life because of making some childish decisions, and sending nude photographs of themselves or others," Grove says. 
Teens wouldn't be thrown in jail under Grove's bill.  "The judges have the ability to order community service, some form of educational program and a fine if they want to go that route," Grove says.  The bill would allow a teen's record to be expunged, and Grove says that compared favorably with the alternative in current law.  He tells us felony convictions would follow a young offender for life, and even affect their future job applications.   
The Pennsylvania District Attorneys Association (PDAA) supports the bill.  Executive director Richard Long says it provides a penalty that's more in line with the actual conduct that's occurring with these teen "sexting" incidents.  "The current law is not adequately tailored to reflect what's going on… just ten years ago there was no such thing as sexting," Long tells us. 
The bill only applies to teens; adults would still be prosecuted under child pornography laws if they're involved in the sending or receiving of nude photos of minors.  HB 815 passed the House with a 178 – 20 vote.  It now heads to the State Senate for consideration.
http://www.pamatters.com/wp-content/uploads/2011/05/Texting.jpg
403
604
PAMatters
http://www.pamatters.com/wp-content/uploads/2014/10/logo.png
PAMatters
2011-05-24 10:40:21
2011-05-24 10:40:21
Teen "Sexting" Bill Passes PA House