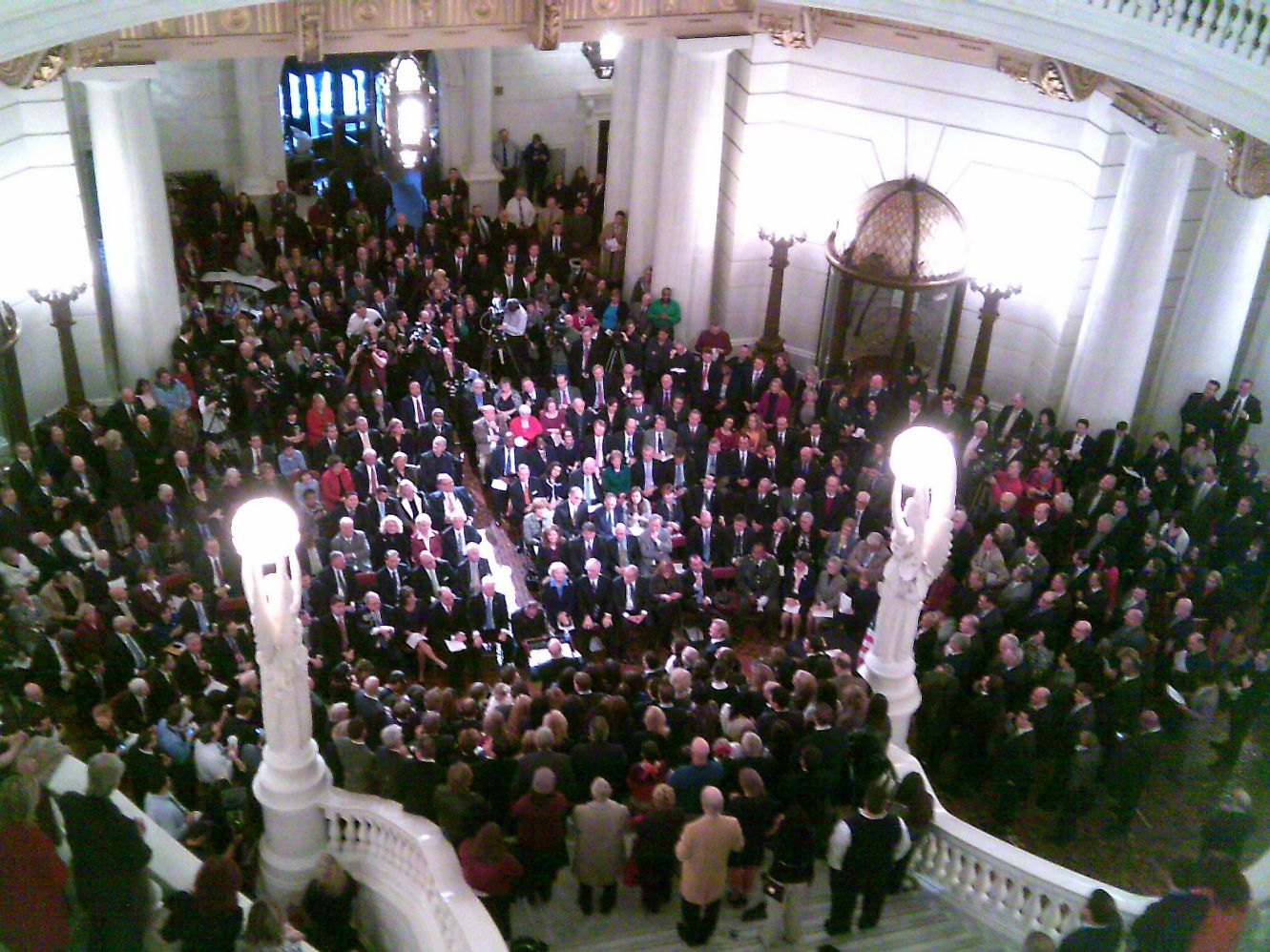 It seemed like around every corner at the state capitol complex, Tuesday, was a Democrat taking the oath of office.  Hundreds filled the rotunda and spilled into the hallways to catch a glimpse of Kathleen Kane being sworn-in as the first Democrat and the first woman elected Attorney General in PA. 
"I'm proud, I'm excited and I'm just thrilled that everyone came out to support us the way that they did," Kane told reporters afterward.  "It wasn't just the election, they're here today too."  Kane has vowed to launch an investigation of the way the Jerry Sandusky case was handled at the AG's office, and says she's close to naming a Special Deputy Attorney General whose sole job will be that probe.
Across the street at the Pennsylvania State Museum, Eugene DePasquale became the state's independent fiscal watchdog when he took the oath of office as Auditor General.  He'll start by reviewing internal operations to ensure everything is running efficiently.  "I think it is entirely wrong to go out and start banging away at other agencies, and saying they need to become more efficient, if we're not going to look at ourselves as well," DePasquale said in his inaugural address. 
While DePasquale is the first York County resident to hold statewide office since Governor George Leader in the 1950s, he's downplaying any historical significance.  "That's kind of some fun talk, but – at the end of the day – if you do your job people will remember you well, if you don't do your job they won't." 
Both DePasquale and Kane are serving in new positions, but Treasurer Rob McCord took the oath of office for a second time on Tuesday.  Looking ahead to his second term, McCord says he will continue to find innovative ways to save and make money for the people of Pennsylvania.  Under his watch, McCord says, the Treasury has produced $1.6-billion dollars in investment returns and averted $300-million dollars in erroneous state payments.
https://www.pamatters.com/wp-content/uploads/2013/01/Rotunda.jpg
998
1331
PAMatters
http://www.pamatters.com/wp-content/uploads/2014/10/logo.png
PAMatters
2013-01-15 17:50:52
2013-04-02 13:32:42
State Capitol Packed as Row Officers Take Oaths