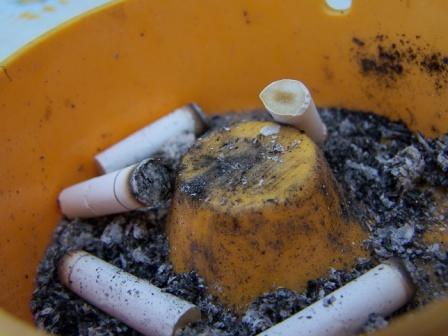 The state Health department is urging smokers to "Quit for Love" for Valentine's Day.   Nicotine replacement therapy kits and counseling support are being offered free of charge to Pennsylvania residents who are trying to quit using tobacco.
The kits will be available for six to eight weeks, or while supplies last,  through the free quit line at 1-800-QUIT-NOW.  Judy Ochs, director of the Tobacco Prevention and Control Program for the state Health Department, says it's a good time to get healthier and protect your loved ones from second hand smoke.
Ochs says it usually takes 5 to 8 tries before a smoker succeeds at quitting, but the combination of NRT with coaching doubles the possibility the tobacco user will be able to stay tobacco free.
Ochs says this is the second year for the "Quit for Love" program.  She says they gave out over 6 thousand kits the last time, and over 30% of the people who participated in the free coaching and NRT have remained tobacco free.
Ochs says people can take advantage of the offer by calling the quit line and answering some questions.  After a medical screening, they will be mailed the Nicotine Replacement Therapy kits and will have a series of telephone counseling sessions.
Ochs says quitting really does take practice, but  NRT with counseling can give the person who is ready to make the quit attempt a really good opportunity to go tobacco free.
Ochs says within hours of going tobacco free, your body will begin feeling the effects of the health benefits.
You can also learn more about the state's smoking cessation resources at DeterminedToQuit.com.
The free NRT kits are funded through Tobacco Master Settlement Agreement funds as well as a federal grant from the Centers for Disease Control and Prevention. Ochs says for every dollar spent on smoking cessation, over 3 dollars in health savings can be realized.
Smoking cessation efforts have reduced Pennsylvania's adult tobacco use rate from 25% to 18%.
https://www.pamatters.com/wp-content/uploads/2011/11/smokes.jpg
336
448
PAMatters
http://www.pamatters.com/wp-content/uploads/2014/10/logo.png
PAMatters
2012-02-14 17:50:01
2012-02-14 17:50:01
Smokers Encouraged to Kick the Habit for Valentine's Day- State Offers Free Help