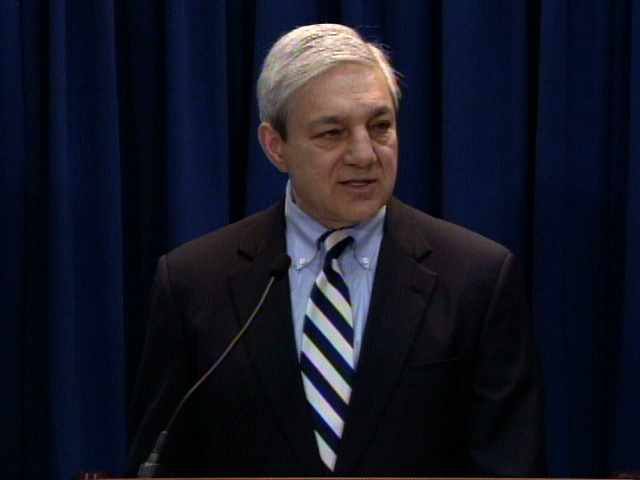 Graham Spanier, who served as Penn State University's president from 1995 through 2001, is the latest big name to face criminal charges in the ongoing Jerry Sandusky child sex case. Sandusky, the former assistant football coach, is in state prison serving a 30-60 year sentence for the molestation of young boys. He was convicted on 45 counts over the summer and was transferred to the state prison in Greene County this week.
Two other university officials, former Athletic Director Tim Curley and former Senior Vice-President for Finance and Business Gary Schultz, were charged perjury and failure to report the alleged abuse shortly after the Sandusky story broke. Curley is currently on paid leave, while Schultz retired in 2009. Both are awaiting trial in January.
Spanier was fired the same night as the late Head Coach Joe Paterno, and it has been widely speculated that the former president would face criminal charges himself after the release of the Freeh Report last summer. That report included a series of notes and emails dating back to 1998 showing that Spanier was informed of the Sandusky allegations. The Freeh Report findings listed Spanier as one of four people (along with Curley, Schultz and Paterno) who failed to protect children from a sexual predator, and the report stated that Spanier had failed in his role as university president.
Perhaps the most incriminating entry from the Freeh Report quotes Spanier in a written exchange with Curley in 2001. The two had just decided to deviate from a previously agreed-to plan to notify state officials about an alleged encounter between Sandusky and a young boy in the Lasch Hall showers, an incident infamously witnessed by then-graduate assistant Mike McQueary. Instead of reporting the incident to the Department of Public Welfare and the chair of Sandusky's Second Mile charity, Spanier and Curley decide to approach Sandusky himself and urge him to seek professional help. Spanier writes in a February 2001 email: "The only downside for us is if the message isn't 'heard' and acted upon, and then we become vulnerable for not having reported it."
Pennsylvania Attorney General Linda Kelly and Pennsylvania State Police Commissioner Frank Noonan announced the charges against Spanier Monday from the Media Center at the state capitol.  According to court documents, Spanier faces eight counts, including three charges for conspiracy, 2 for endangering the welfare of children, and one count each for perjury, obstruction and failure to report suspected child abuse.
Additional charges were also filed against Curley and Schultz on Thursday. In addition to the previous charges, each will now also be charged with conspiracy, obstruction and endangering the welfare of children.
The announcement comes just 4 days shy of the first anniversary of Sandusky's arrest on child rape charges and 8 days from the anniversary of the firings of Spanier and Paterno on November 9th, 2011.
http://www.pamatters.com/wp-content/uploads/2012/11/spanier3.jpeg
480
640
Brad Christman
http://www.pamatters.com/wp-content/uploads/2014/10/logo.png
Brad Christman
2012-11-01 11:05:46
2012-11-01 11:17:29
Former Penn State President Graham Spanier Charged