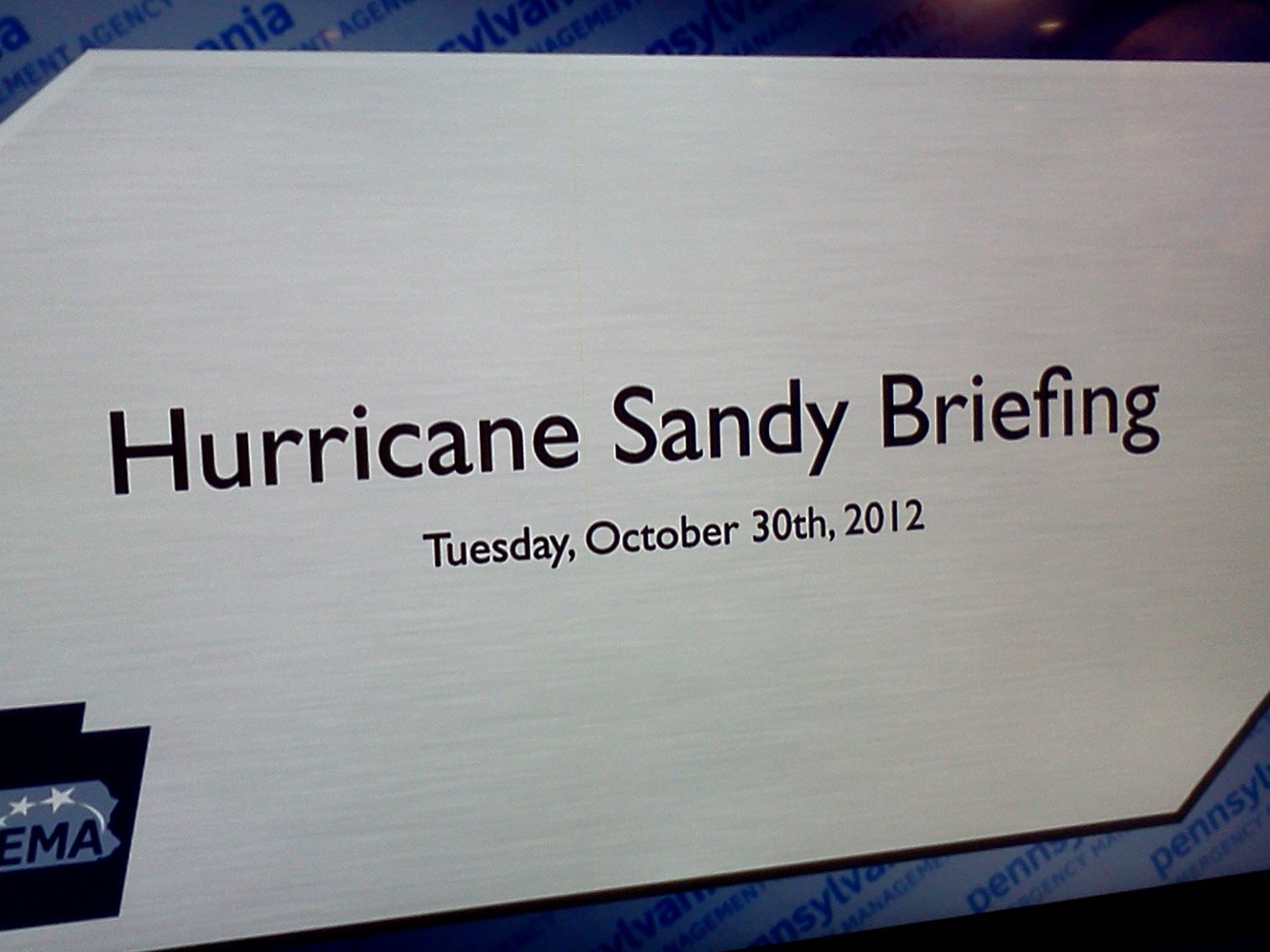 State emergency management officials cited significantly diminished winds as, as the storm that used to be Hurricane Sandy slowly moved through western Pennsylvania and into New York. 
There are reports of minor flooding across the state's southern counties and 1.25-million Pennsylvania households were without power as of the midday briefing.  900-people have also sought aid in 57-shelters that have been established across the state. 
But the problems are much worse in neighboring New York and New Jersey.  "There are two mega-shelters being established to house people coming in from out-of-state," Governor Tom Corbett explained.  One, at West Chester University, will house up to 1,300 displaced New Jersey residents.  Another, at East Stroudsburg University, will house up to 500 displaced New Yorkers. 
Pennsylvania is also sending those states 35- ambulances and a variety of incident management teams, according to PEMA director Glenn Cannon. 
A state of major disaster has already been declared in New York and New Jersey.  Pennsylvania's would-be major disaster declaration will have to wait until the damages are tallied, but Governor Corbett says the state will at least receive federal assistance for its storm prep.  "Frankly I believe our preparation for the storm, in many respects, kept much of the damage in check, particularly when it comes to life and injuries."
At least three Pennsylvania deaths have been confirmed in connection with the storm. Two of them involve falling trees, the third was the result of a traffic accident.  That number may rise in the hours ahead.      
Corbett will be at Ft. Indiantown Gap, this afternoon, to visit with some of the 2,000 National Guard troops that have been activated for the disaster response.  Then it's back to the PEMA emergency operations center for an evening briefing on the storm, and Corbett plans to tour some of the hardest-hit areas of the state on Wednesday and Thursday.
https://www.pamatters.com/wp-content/uploads/2012/10/Sandy7.jpg
998
1331
PAMatters
http://www.pamatters.com/wp-content/uploads/2014/10/logo.png
PAMatters
2012-10-30 13:07:48
2012-10-30 13:07:48
Worst is Over, PA to Assist Neighboring States