Posts
https://www.pamatters.com/wp-content/uploads/2011/06/PAMatters-Video.jpg
1080
1920
PAMatters
http://www.pamatters.com/wp-content/uploads/2014/10/logo.png
PAMatters
2013-04-29 13:44:08
2013-04-29 13:44:08
Governor Tom Corbett on Safety and Security in Pennsylvania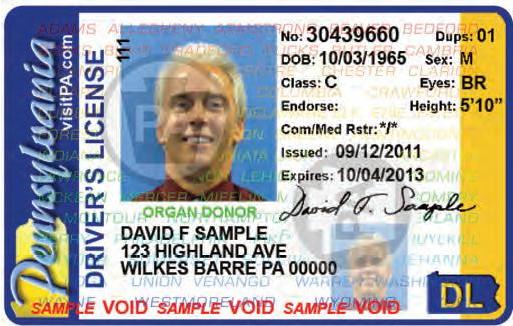 It's going to be harder to "fake" a Pennsylvania driver's license.   The Pennsylvania Department of Transportation has become the first in the nation to adopt a new security feature on the licenses it issues.
The new feature employs a hologram that appears to switch between white and black as the image is moved 90 degrees.  It's a higher resolution and PennDOT believes it will make it easier for police officers and people in the bar industry and banking to spot a fake driver's license or ID.
Deputy Secretary Kurt Myers says the quality of fake IDs has grown rapidly. He says PennDOT believes strongly its important to add to the security features of its licenses to stay one step ahead of those who are attempting to commit fraud.
Jan McKnight, of PennDOT's Safety Administration, says the new licenses are being phased in starting today. That means everyone getting a new photo taken for a license will now get the new security feature. While the new licenses will be issued as old ones are replaced on the normal four year cycle, McKnight says people can complete an application for change, correction or replacement of a noncommercial driver's license on line  and get one sooner.
https://www.pamatters.com/wp-content/uploads/2011/12/dlsample.jpg
326
513
PAMatters
http://www.pamatters.com/wp-content/uploads/2014/10/logo.png
PAMatters
2011-12-05 16:14:12
2011-12-05 16:14:12
PennDOT Adds New Security Feature to Driver's Licenses
Welcome to PAMatters.com, a new source for news and commentary from Pennsylvania's capital. In addition to video, audio and pictures from the stories and events that affect YOU, you'll also get some behind-the-scenes analysis via blogs from our award-winning staff of journalists.