Through the first eleven months of the fiscal year, the Department of Revenue reports that collections have outpaced expectations to the tune of $540-million dollars.  Many lawmakers are ready to tap into that money to mitigate some of the proposed budget cuts.  However, Governor Tom Corbett isn't ready to use the "S" word… surplus.  "I don't know how you have a surplus when we know that Pennsylvania – because of the recession, because of the number of people who lost jobs – had to borrow money from the federal government, [and] owes the federal government $3.7-billion dollars as we sit here today." 
Governor Corbett's comments came on Radio PA's monthly Ask the Governor program, which is featured here in PAMatters.com.  Corbett said he's sticking to the $27.3-billion dollar framework he laid out during his March 8th budget address: "That allows everybody to plan based upon that number, and to make the difficult cuts, and I wish they didn't have to make those cuts.  I don't want to have to make those cuts, but it's necessary to get our house in order." 
Corbett has come under fire in recent months for the education cuts he's proposed for next year's budget.  "We didn't do this lightly, we're not being hard-hearted about this, but we have a $4.2-billion dollar hole in the budget," Corbett says, referring to the structural deficit that exists in large part to the expiration of the federal stimulus program.  Corbett points out that basic education has been held at pre-stimulus levels (see insert).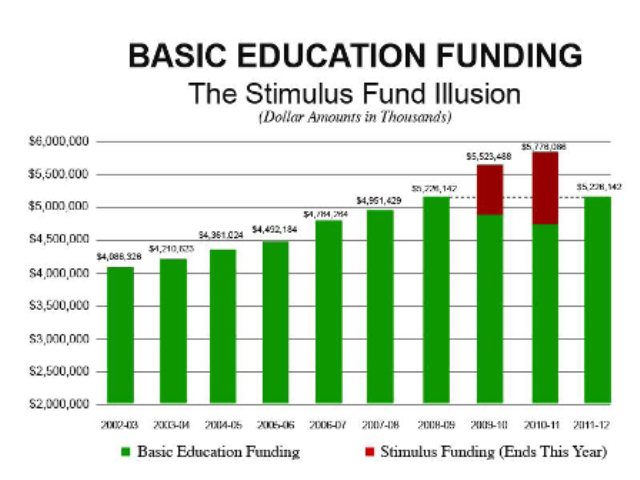 House Republicans' budget bill would restore $100-million dollars to the basic education funding line item, and account for an additional $380-million dollars for higher education.  Governor Corbett's original budget plan would have slashed funding for the State System of Higher Education, and State Related universities, in half.  But House Republicans didn't add to the $27.3-billion dollar bottom line – they instead trimmed an additional $470-million dollars in welfare spending.  Asked about those projections, Corbett was skeptical: "Do I believe we're going to find savings in the Department of [Public] Welfare?  Yes.  Am I going to find it at the rate, at the number and at the speed that we need to for one fiscal year?  I have grave concerns about that.  I'm a very cautious person." 
Corbett, House and Senate leaders will flesh out their budget priorities in the weeks ahead, in hopes of meeting the June 30th budget deadline.  If successful, it would be the first on-time state budget in eight years.
https://www.pamatters.com/wp-content/uploads/2011/06/TomCorbett51211.jpg
534
800
PAMatters
http://www.pamatters.com/wp-content/uploads/2014/10/logo.png
PAMatters
2011-06-10 13:42:38
2011-06-10 13:46:31
Governor Tom Corbett Not Budging on Surplus Issue