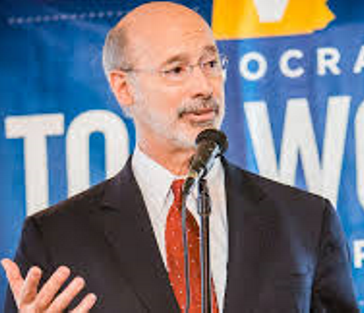 Since June of 2011, PAMatters.com has produced "Ask the Governor," a monthly Q&A with Governor Tom Corbett that focused on the most important issues facing state government, Pennsylvania and its citizens. The Program is hosted by Radio PA's News Director Brad Christman and entertained questions from listeners and web viewers across the commonwealth.
Clips from previous shows are still available right here on PAMatters.com. Governor Tom Wolf made his debut appearance on the show on April 22nd. Check back regularly for the latest information on future show dates.
You can the form below to submit a question for Governor Wolf. Due to the large number of questions submitted, and the time constraints of the program, not every question submitted can be answered on the air. Also, you should not expect a personal response to your email, except those selected for the Ask the Governor program. Videos of the email segments are posted every month here on PAMatters.com. Those questions that are chosen for air are submitted to the governor's office in advance to allow for proper research in providing accurate answers to specific concerns. There are no restrictions on the topics you can submit and the listener/viewer emails are the only questions the governor receives in advance of the show.
Questions and comments should be brief and to the point. The longer the email, the less likely it will be chosen for the program. Radio PA's Brad Christman has the final say on what emails are included in "Ask the Governor." Submitted questions should be no longer than a very short paragraph.
If we do not address your question in a given month, be sure to re-submit it the following month.
You can send a question or comment any time via the Ask the Governor link at the top of this page. Please check back regularly for program updates.