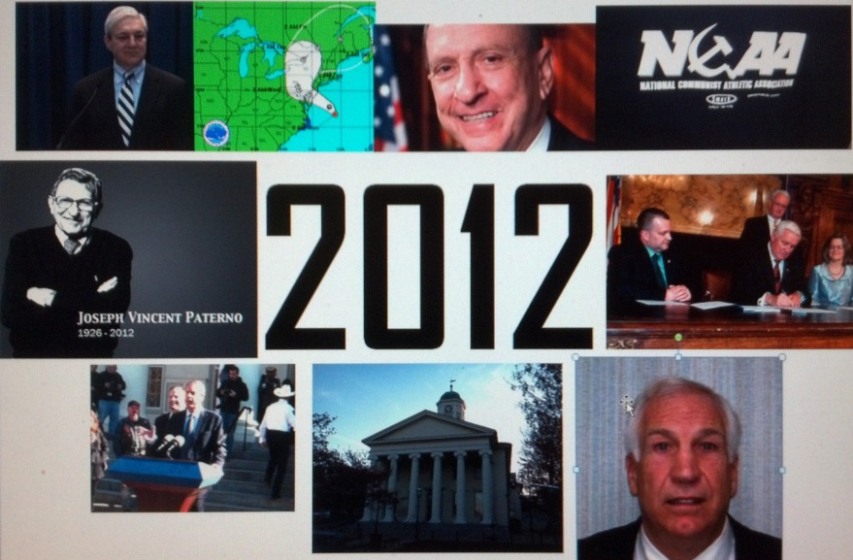 As 2012 draws to a close, Radio PA is looking back at the top 10 Pennsylvania stories of the year as voted on by the news staff and other members of the statewide media. In this installment, we reveal the #1 story of the year, one which has dominated headlines dating back to last year.
Click the audio player to hear Radio PA's recap of the story.
#1 – The Trial and Conviction of Jerry Sandusky   2012Top10-1FINAL
It was the trial of the century so far in June as Gerald Sandusky walked into a Centre County courtroom. The trial would last just over a week; the jury would need just a couple of days; and just like that, Sandusky was headed to prison, convicted on 45 of 48 counts related to the sexual abuse of young boys. In October, Sandusky received a 30-60 year prison term, a virtual life sentence for the 68-year old serial pedophile. Sandusky maintains his innocence, but he did not testify at his trial in Bellefonte last summer. Instead, we heard from Sandusky on the eve of his sentencing, as he released a rambling audio statement from jail. The conviction brought to an end one of the saddest chapters in Pennsylvania history, one that saw the once proud Penn State program humiliated and shattered at least 15 young lives. The next chapter will pick up in 2013 as several civil lawsuits are pending, along with an expected Sandusky appeal. The trial and conviction of former Penn State Defensive Coordinator Jerry Sandusky is Radio PA's #1 story of 2012.
https://www.pamatters.com/wp-content/uploads/2012/12/2012.jpg
560
853
Brad Christman
http://www.pamatters.com/wp-content/uploads/2014/10/logo.png
Brad Christman
2012-12-31 05:00:40
2012-12-24 11:00:13
Radio PA's Top 10 Pennsylvania Stories of 2012 - Part 4