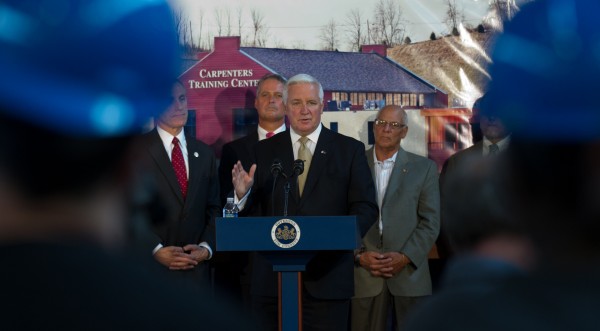 Governor Corbett has released his plan for the Marcellus Shale industry, calling for some stronger regulations, an impact fee and the development of green corridors for natural gas vehicles.  He made the announcement after weeks of reviewing the recommendations of his Marcellus Shale Advisory Commission.
The Governor's proposed impact fee on Marcellus Shale wells would be adopted by counties. He says 75% would be shared among each county and its municipalities. Twenty-five percent would go to the state, with the largest share to PennDOT and the rest split among the Department of Environmental Protection, Pennsylvania Emergency Management Agency, the Pennsylvania Public Utility Commission, and the State Fire Commissioner.
The Governor is also calling for enhanced environmental standards for drilling operations, and higher penalties for violations. He wants to increase the gas well setback distance from water wells and  public water supplies. He would also increase the well setback distance from streams, rivers, ponds and other bodies of water. He wants to increase the well bonding fee.
The Governor's plan would allow DEP to take quicker action to revoke or withhold permits for operators who consistently violate the rules.
The impact fee would be up to $40,000 per well in the first year, $30,000 in the second, $20,000 in the third and no more than $10,000 in years four through ten.  He says that's a total of $160,000 per well. Governor Corbett says estimates show that the fee would bring in about $120 million dollars in the first year and $200 million within six years.
Of the 75% that would stay at the county collecting the fee, Governor Corbett says 36% would be retained by the county, 37% would be distributed to municipalities that host the drilling pads and the remaining 27% would be distributed to all municipalities in a county that is impacted by Marcellus using a formula based on population and highway miles.
Governor Corbett says the money could be used for things such as road maintenance and repair, water and sewer system construction and repair, projects to increase affordable housing for low income residents, social services and municipal planning.
The Governor says he will seek to develop green corridors in the state for natural gas vehicles. He says we have all this gas; we need to have a market for it.
Governor Corbett says the energy under our feet is going to be fueling the state's economy, heating the homes, lighting houses and businesses for generations to come. He says it's cleaner and it creates much fewer emissions. He says energy means jobs. The Governor made his announcement at a carpenters' training facility in Pittsburgh Monday morning.
https://www.pamatters.com/wp-content/uploads/2011/10/9187_Gov_Pitts3-e1317766590531.jpg
331
600
PAMatters
http://www.pamatters.com/wp-content/uploads/2014/10/logo.png
PAMatters
2011-10-03 20:46:51
2011-10-04 17:16:46
Governor Corbett Announces Marcellus Shale Proposal