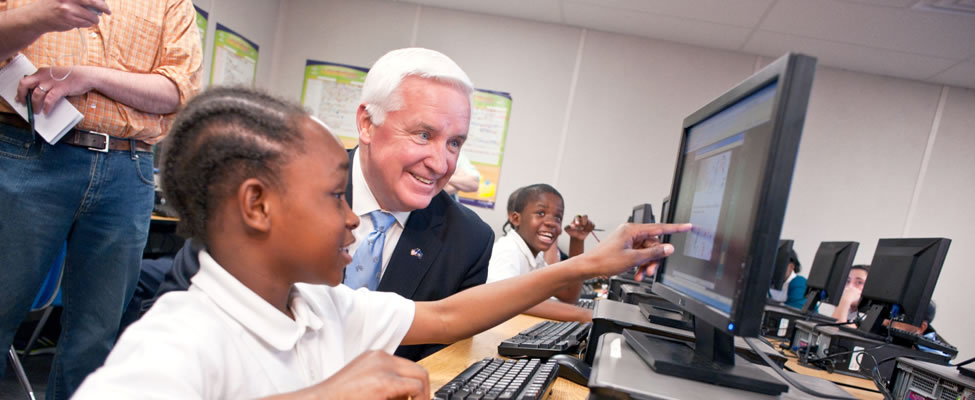 The new education paradigm that Governor Tom Corbett envisions would put students first.  While visiting the Lincoln Charter School in York, Corbett put forth a four point plan that he wants to see implemented in time for the 2012-2013 school year. 
It starts with a revamped charter school law in Pennsylvania.  "My plan calls for a state commission to approve and to oversee the charter schools of Pennsylvania," Corbett says, adding that the commission of experts would also have the power to pull the plug on charter schools that aren't meeting educational standards. 
Controversial school vouchers also make an appearance, but they would only apply to low-income students in the lowest performing 5% of PA's schools.  "Students whose families earn 130% or less of the federal poverty rate would be eligible for these scholarships," Corbett says.  "To give that to you in dollars and cents, that's a family of four earning $29,000."  Students who come from families earning slightly more would be eligible for a portion of the so-called opportunity scholarships. 
The new teacher evaluation program that Corbett envisions would include student performance.  "Right now the evaluation system is merely a rubber stamp, and it must change if our students are going to be the beneficiaries of good, committed educators," Corbett says.  The current system allows only for a satisfactory or unsatisfactory rating.  The new system that's currently being piloted would allow for ratings that range from distinguished and proficient, to needs improvement and failing.
The state House has already passed a bill that encompasses Corbett's fourth goal of expanding the Educational improvement Tax Credit (EITC), which is awarded to businesses that fund scholarships and other educational improvements. 
Corbett concluded that he's not happy with the status quo.  "When we have failing schools, we have failing students," he says, pointing to the School District of Philadelphia's 45% drop out rate.  Reaction to the Corbett agenda is rapidly pouring in; check back later for a recap.
https://www.pamatters.com/wp-content/uploads/2011/05/corbett_education.jpg
400
975
PAMatters
http://www.pamatters.com/wp-content/uploads/2014/10/logo.png
PAMatters
2011-10-11 12:11:07
2011-10-11 12:16:00
Corbett Unveils School Reform Agenda