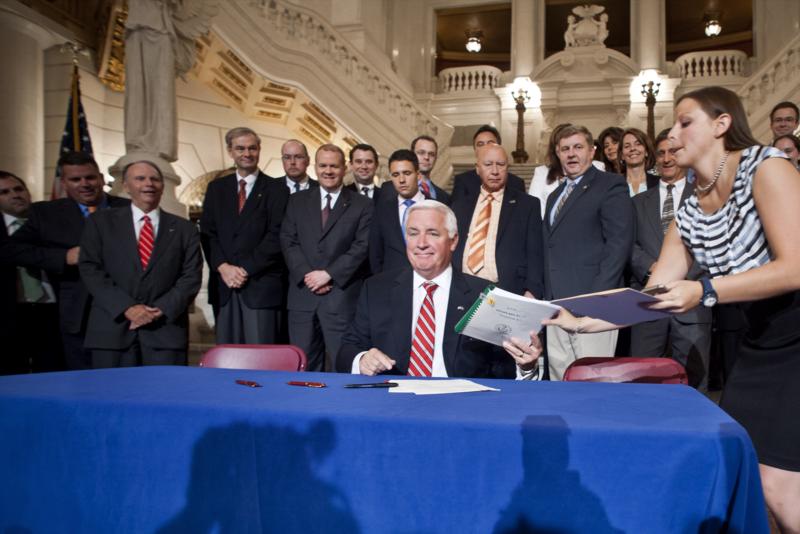 The new fiscal year began on Sunday with the second straight on-time, no tax increase budget.  "Today we reaffirm our commitment to job growth, to education, to the needy and to the taxpayers… our goal is growing new jobs," Governor Corbett said upon signing the $27.7-billion dollar spending plan late Saturday night.
But critics say the new budget does little to preserve the social safety net.  They lament the elimination of a cash grant welfare program for more than 60,000 needy and disabled residents.  "A lot of men in my district will have no means of support.  And in my district, no means of support means take what you need," explains Rep. John Myers (D-Philadelphia).  The administration has agreed to continue the program for one more month to ease the transition.
Governor Corbett says he's pleased that an improving financial picture allowed them to restore funding to several areas, including the Accountability Block Grants that fund full-day kindergarten programs across the state.  Public schools are essentially being level-funded this year, while an extra $40-million dollars has been earmarked for the most fiscally distressed districts.
One of the biggest budget restorations came in the area of higher education, where state-owned and state related universities had been facing cuts of 20% and 30% respective, which would have been on top of last year's 18% and 20% cuts.  The new level funding comes with a commitment from the university presidents that tuition hikes will be kept at a minimum for the upcoming school year.
Much of this weekend's activity focused on the other executive and legislative priorities tied to this year's budget.  Lawmakers signed off on a new system of teacher evaluations for public school teachers, and an expanded Educational Improvement Tax Credit (EITC) program that will give businesses tax breaks when they fund school choice scholarships for low-income students in the state's worst-performing schools.
Another big victory for the administration was the so-called "ethane cracker tax credit," which Governor Tom Corbett has described as a new industrial revolution in Pennsylvania.  It passed with broad, bipartisan support.
Charter school reform legislation did not get finalized before lawmakers' summer break, however Corbett and leading Republicans vow to keep pressing the issue in the fall.  Also, there will be a pilot program to offer county human services funding in block grants vs. seven separate line items.  Up to 20-counties will be able to participate in the pilot; Corbett had originally proposed Human Services Block grants statewide.
https://www.pamatters.com/wp-content/uploads/2012/07/Corbett-Budget.jpg
534
800
PAMatters
http://www.pamatters.com/wp-content/uploads/2014/10/logo.png
PAMatters
2012-07-02 05:45:26
2012-07-02 05:45:26
Budget Package Signed Just Before Midnight Deadline