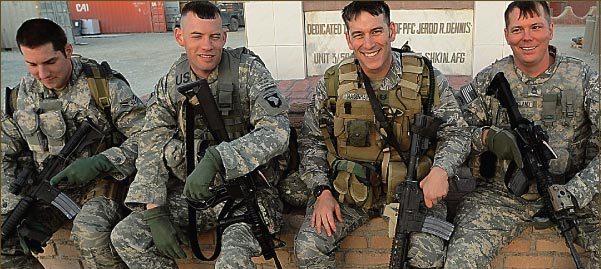 By next September, more than 30-thousand U S troops will be withdrawn from combat services in Afghanistan.  As deployments come to an end and service members reconnect with families and friends, readjusting to life outside the combat zone can be difficult.  The recent loss of 30 troops in the deadliest incident of the Afghan war can increase the stresses for their comrades. 
The Real Warriors Campaign is ready to help with a variety of resources according to Major Ed Pulido.  He says they have help for grief issues as well as the invisible wounds of war. The services are available to active military and veterans.
Some returning service members may feel that no one understands what they've been through. Others may find that their role in family life changed while they were away or they may feel isolated.  The Real Warriors Campaign is reaching out and asking returning troops to seek support if they face a challenging transition back to life at home.
Major Ed Pulido says soldiers are trained to be tough, but they should not hesitate to ask for help.  He says things are changing; commanders are being educated and service members are being supported and watched to make sure they're OK.
Major Pulido says we've learned from the mistakes we made when soldiers came home from Vietnam. He says we're going to take care of all who support and defend this great nation.
Major Pulido says there are warning signs friends and families should not ignore. These include individuals who have given up on themselves or their career, hyper vigilance or risky behaviors.
Major Pulido says they want to encourage people to understand these issues.  Some service members who have not served in active combat duty may have also suffered from combat-related stress, due to spending time in war zones and being exposed to roadside bombings and attacks.
Some returning service members could be suffering from undiagnosed traumatic brain injuries as the result of the concussion from a bombing. Major Pulido says the Real Warriors Campaign has services to provide support.
**Photo by SSGT Aaron Allmon, courtesy of The Real Warriors Campaign
https://www.pamatters.com/wp-content/uploads/2011/08/warriors2.jpg
269
601
PAMatters
http://www.pamatters.com/wp-content/uploads/2014/10/logo.png
PAMatters
2011-08-11 17:03:58
2011-08-11 17:03:58
As Troops Come Home, The Real Warriors Campaign is Poised to Help