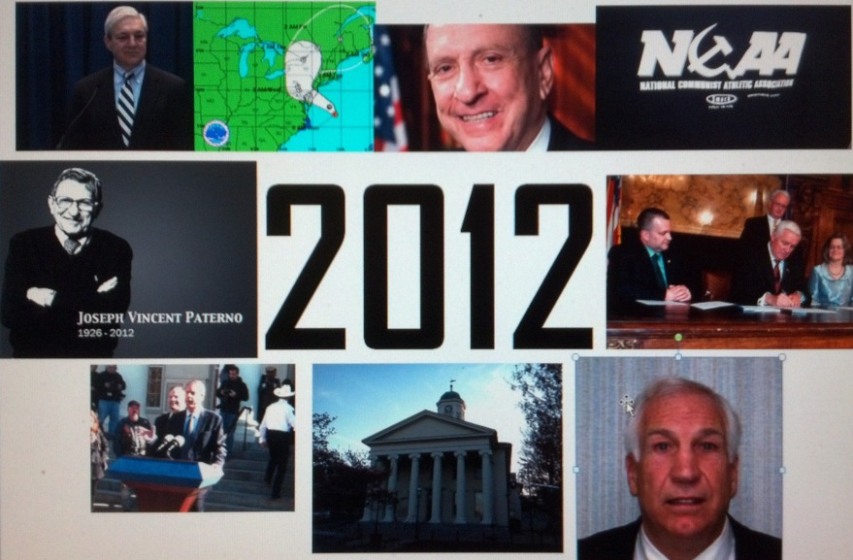 As 2012 draws to a close, Radio PA is looking back at the top 10 Pennsylvania stories of the year as voted on by the news staff and other members of the statewide media. In this installment, we reveal stories 7 through 5, beginning with a groundbreaking election victory.
Click the audio players to hear Radio PA's recap of each story.
#7 – Kathleen Kane & the Democrats   2012Top10-7FINAL
Pennsylvania had never elected a woman as state Attorney General. Pennsylvania had never elected a Democrat as state Attorney General. In one night, Kathleen Kane shattered both of those barriers. Kane's victory on November 6th was part of a Democrat Party sweep of Pennsylvania's row offices, as Treasurer Rob McCord won re-election and State Representative Eugene DePasquale was selected the next Pennsylvania Auditor General. Political analyst Terry Madonna of F&M College in Lancaster says the victories have provided the Democrats with a "deep bench" for future statewide elections. Kane says she hopes her victory can show young women throughout the Keystone State that anything is possible. During her campaign, Kane repeatedly said she plans to investigate Governor Tom Corbett's role in the prosecution of Jerry Sandusky (Corbett was the Attorney General who launched the Sandusky case and opponents of the governor have been critical about the timing and handling of the probe). The stage is now set for a contentious relationship between Tom Corbett and his former office in 2013 and beyond, and Kathleen Kane's groundbreaking election win is Radio PA's #7 Pennsylvania story of 2012.
#6 – "Superstorm" Sandy   2012Top10-6FINAL
The convergence of multiple weather systems in late October brought back memories of 1991's "Perfect Storm," but forecasters went with a different term to describe this one as the term "Superstorm" entered the media lexicon. The main component of this dangerous mix was Hurricane Sandy. As it approached the Mid-Atlantic region, emergency declarations were declared and states braced for the worst. In Pennsylvania, there were more than a dozen deaths associated with the storm, but the Commonwealth avoided widespread flooding and other major damage as Superstorm Sandy weakened immediately after coming ashore. New Jersey and New York were not so fortunate, as the storm surge wiped out entire communities. Power was out in parts of Pennsylvania for more than a week, with over 1.2 million customers out at the height of the storm. Parts of New York and New Jersey were out even longer as utilities tried to rebuild the damaged power grid. "Superstorm" Sandy blows in as Radio PA's # 6 Pennsylvania story of 2012.
#5 – The Death of Arlen Specter   2012Top10-5FINAL
The Warren Commission's "Single Bullet Theory," the Clarence Thomas & Robert Bork SCOTUS confirmation hearings, the impeachment of President Bill Clinton…name a major story of the past 50 years and odds are you'll find Arlen Specter's name associated with it. The longtime Pennsylvania U.S. Senator died on October 14th of this year after a third round with cancer. Specter was PA's longest-serving Senator, having served from 1981-2010. His defeat in the 2010 primary election came about one year after his controversial switch to the Democrat party, but the Kansas native was always a political lightning rod, sometimes voting counter to his own Republican party's interests during his 30-year career in Washington. The moderate used his farewell speech in 2010 to chastise his former GOP brethren, who he claimed were engaging in "sophisticated cannibalism" by targeting fellow Republicans who don't vote with the party 100% of the time. Specter was 82 years old when he passed away, but he leaves a fiercely independent legacy in a time when political parties are drafting further away from the political center. The death of Arlen Specter checks in as Radio PA's #5 Pennsylvania story of 2012.
Check back soon for stories #4, #3 and #2…
http://www.pamatters.com/wp-content/uploads/2012/12/2012.jpg
560
853
Brad Christman
http://www.pamatters.com/wp-content/uploads/2014/10/logo.png
Brad Christman
2012-12-27 05:00:05
2012-12-24 10:20:59
Radio PA's Top 10 Pennsylvania Stories of 2012 - Part 2