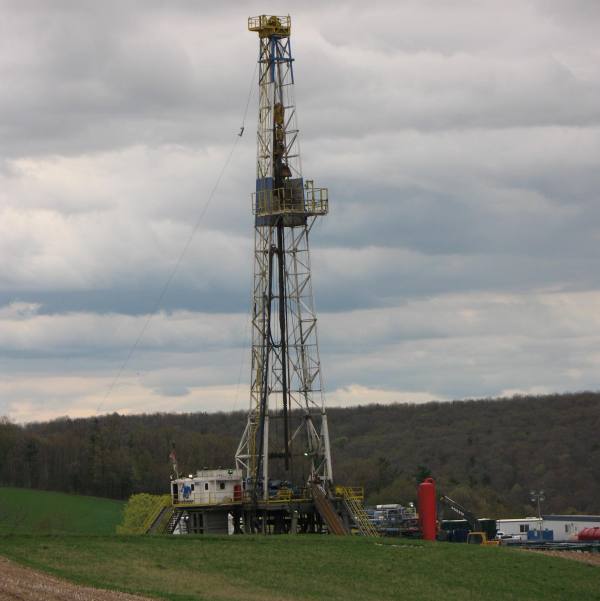 Some state lawmakers and a number of environmental groups say there's not enough attention being paid to air pollution caused by Marcellus Shale drilling.   Representative Greg Vitali (D-Del.) says the Department of Environmental Protection must do more to address air pollution caused by drilling activity.     
Vitali says a lot of the pollution comes from the various machinery used in the drilling process. He cites compressors, condensate tanks, dehydrators and other equipment.  He says the pollutants involved are nitrous oxides,   sulfur oxides, volatile organic compounds, particulate matter, carbon monoxide and methane.
Vitali says DEP needs to increase its air pollution staffing to address the problems.  He says they need more money, and the way to do that is to increase air pollution fees.  He says regulations under the Rendell administration which would have given DEP 8 million dollars more the air program were stopped by the Corbett administration.  He says the state needs to enact those air pollution fees.
Vitali adds that DEP needs to require drillers to use best available pollution control devices for their compressor engines.
Representative Camille "Bud" George (D-Clearfield) says we have to make sure our state and federal governments have appropriate oversight. He called on state government to look past what's most convenient for industrial gas drillers and do what's best for Pennsylvania.
Representative Eugene DePasquale (D-York) says the state needs a fair and adequate Marcellus Shale drilling tax to ensure the state has both clean air and water.  He says the state needs people in DEP fully staffed with the tools to protect the environment.
Jan Jarrett of PennFuture says air emissions from the Marcellus Shale industry will make it extremely difficult for Pennsylvania to attain healthy air, if the state doesn't use the regulations currently at its disposal to reduce emissions as the industry develops.      
Jarrett says Pennsylvania does not meet the national health based standards for ozone pollution, but the southwest regional office of DEP alone has permitted more than 13 thousand tons per year of nitrous oxide emissions associated with the Marcellus industry. She says DEP also needs to require drillers to provide accurate information about emissions from gas development activities.  She says it's time to end the gas industry's exemption from air pollution laws; otherwise, Pennsylvania's air quality will deteriorate.
Representatives of other groups including the American Lung Association and Sierra Club also spoke out for more regulation of air emissions from the natural gas drilling industry.
http://www.pamatters.com/wp-content/uploads/2011/05/marcellusshale_29web.jpg
601
600
PAMatters
http://www.pamatters.com/wp-content/uploads/2014/10/logo.png
PAMatters
2011-11-01 16:17:42
2011-11-02 18:26:36
Lawmakers, Environmental Groups Call for More Control of Air Emissions From Drilling Industry