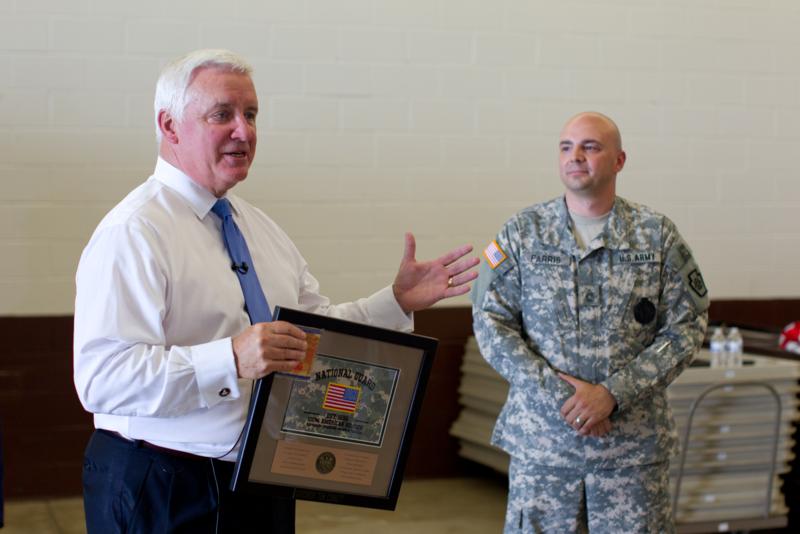 The 10th anniversary of the 9/11 terrorist attacks is less than a month away.  "That day will stick with me, as it sticks with everybody, as to where you were and what you were doing," says Governor Tom Corbett.  Ten years ago, Corbett was chairman of the Pennsylvania Commission on Crime & Delinquency.  He was in Harrisburg to conduct the commission's quarterly meeting on September 11th, 2001. 
Details of the tragic events were sketchy when the meeting began.  "We conducted the meeting in an hour, we moved through it very quickly.  But, what I remember is that I kept getting notes produced to me.  I was reading the notes, and I could not tell the members of the commission because they were about the buildings falling," Corbett recalls. 
Corbett had flown into Harrisburg, but drove a rental car home to Pittsburgh because all commercial planes had been grounded.  It was an emotional Turnpike trip that day: "Knowing that off to my right somewhere was where the heroes had taken over the plane and crashed it into the ground."    
The Flight 93 National Memorial is under construction, and phase 1 will be dedicated during next month's 10th anniversary commemoration.  Governor Corbett recently had the chance to fly over the site, and says he looks forward to being there on September 11th. 
This Monday, Corbett will speak at the 37th annual National Organization for Victim Assistance conference, where special recognition will be given to the 9/11 victims and the advocates who've provided assistance.
http://www.pamatters.com/wp-content/uploads/2011/08/Corbett4.jpg
534
800
PAMatters
http://www.pamatters.com/wp-content/uploads/2014/10/logo.png
PAMatters
2011-08-14 04:30:12
2011-08-12 15:39:28
Corbett Remembers 9/11