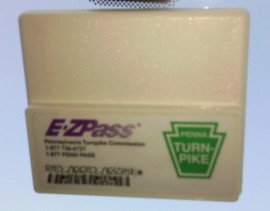 The Pennsylvania Turnpike Commission has set the tolls for the next calendar year, and E-ZPass customers are getting a "pass".  Cash customers will be paying 10% more starting January 1st, but those who pay electronically will not see an increase. The 2012 rate schedule will result in an overall revenue growth of 3%.
It will be the fourth annual toll increase since Act 44 of 2007 required the Turnpike to provide funding for statewide transportation needs.  This year, there was a two tier toll schedule for the first time, allowing E-ZPass customers to pay a lower increase.  The 2011 toll schedule raised rates for cash customers by 10%, but increased electronic tolls by just 3%.
Bill Capone, spokesman for the Turnpike Commission, says they think there are customer service benefits by moving more people to E-ZPass.  He expects more will sign up, now that next year's toll schedule has been announced.  He says electronic tolls are safer and more convenient.
Capone says as E-ZPass enrollment grows, the commission will be reviewing the number of toll collectors that are needed.  He says that leads to operational savings and efficiencies.
Capone says people don't like to hear about tolls going up, but there's a reason the Turnpike Commission is doing this.  He says it will assist the Commonwealth with other funding needs to improve transportation infrastructure.  Act 44 mandates annual contributions to PennDOT.
The Turnpike Commission also approved 3% increases for 2013 and 2014, but the structure of those increases was not set. The Commission will set the structure for 2013 around this time next year, after reviewing the percentage of cash customers versus E-ZPass customers using the toll road.
https://www.pamatters.com/wp-content/uploads/2011/07/0721111852a.jpg
317
462
PAMatters
http://www.pamatters.com/wp-content/uploads/2014/10/logo.png
PAMatters
2011-07-21 17:20:06
2011-07-21 21:12:48
Pennsylvania Turnpike Commission Announces 2012 Toll Structure