Posts
https://www.pamatters.com/wp-content/uploads/2011/06/PAMatters-Video.jpg
1080
1920
PAMatters
http://www.pamatters.com/wp-content/uploads/2014/10/logo.png
PAMatters
2012-03-20 13:56:54
2012-03-20 13:56:54
Governor Tom Corbett on Pennsylvania's Economy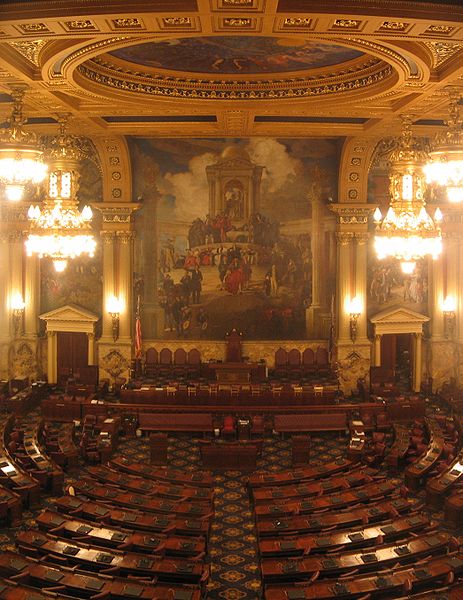 The house has passed a bill to reform a high profile economic development grant program by a 184-9 vote.   The bill would lower the debt ceiling of the Redevelopment Assistance Capital Project program, add rules tied to economic activity and job creation and make the approval process more transparent.
Representative Bill Adolph (R-Del)  was among the supporters. He says outstanding debt has increased by 4.3 billion since 2003-2004.  He says the debt service requirements have increased by 50% over the same time period. Currently, the annual debt service for the program tops one billion dollars.
Representative Adolph says the reforms will focus funds on projects that will encourage economic development and create jobs in Pennsylvania, "truly a win-win situation."
Representative Dwight Evans (D-Phila) argued that the bill really doesn't do anything.  He said it's not needed, because the legislature only has to vote against raising the cap on borrowing for the program in the future.
Representative Mike Hanna (D-Centre)  supported the legislation but questioned whether it would hamper the ability to improve the economy by cutting back on capital investments across the state. He says we should be doing everything we can to create jobs.
The bill's sponsor, Representative Mike Turzai (R-Allegheny), says the bill will reduce the credit limit immediately. Supporters of HB 2175 say the program has gotten out of hand. 
The bill heads to the Senate.
https://www.pamatters.com/wp-content/uploads/2011/05/Pennsylvania_State_Capitol_House_Chamber.jpg
600
463
PAMatters
http://www.pamatters.com/wp-content/uploads/2014/10/logo.png
PAMatters
2012-03-13 17:15:12
2012-03-13 17:15:12
House Votes in Favor of Legislation to Reform Capital Spending Program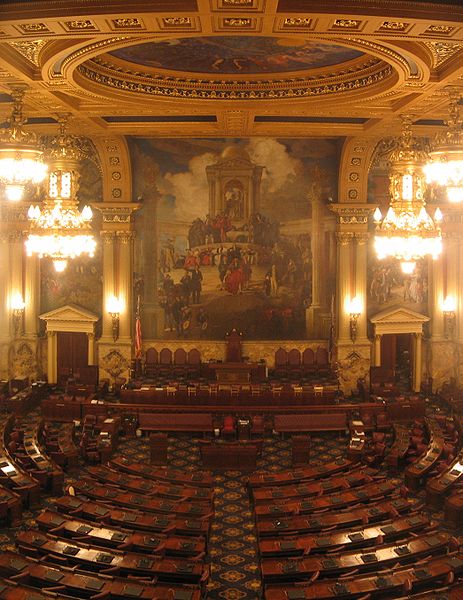 The state house is expected to take up a bill soon that would eliminate a sales and use tax on aircraft sales, parts, maintenance and repair.  Supporters say Pennsylvania is  losing out to neighboring states, which have enacted some type of tax reform on fixed wing aircraft.
Representative Peter Daley (D-Fayette/Washington) says HB 1100 is not about a tax break for the wealthy; it's about creating and retaining jobs. He says when a similar measure was passed for helicopters; a company in West Chester added more than 400 jobs.  He says if HB 1100 is enacted, it will open up the door for the aviation industry to set up shop at Pennsylvania airports with businesses that service aircraft, sell parts, perform routine inspections and even build and sell aircraft.
Representative Daley says similar measures have worked in Ohio and New York.
Craig Stephan, Vice President of Cheyenne Air Service in Washington PA, says the tax  has affected their operations. He says one of their main challenges has been in the avionics area.  He says they've had to cut back and lay off personnel from good, family sustaining jobs.  He says eliminating the tax would boost business.
John Graham III, President of the Pittsburgh Institute of Aeronautics, says 80% of their graduates go to jobs in other states.  He says it's time to stop the brain drain. He says Pennsylvania should not be chasing talent away over a tax that generates so little revenue and could hinder business.
Representative Rick Mirabito (D-Lycoming) says they're seeing a huge increase in the number of planes coming into the Williamsport Regional Airport due to the Marcellus Shale boom, and this bill could help create jobs. Right now, he says people are literally flying over the state to do their maintenance and repair in other places.
Representative Dan Moul (R-Adams/Franklin) is a private pilot, and he believes the tax is costing Pennsylvania business. He says when other states around us have a 6% advantage, before companies in this state even put out a bid for work, you can understand very quickly why the jobs are leaving Pennsylvania.
In December, the Pennsylvania Budget and Policy Center called the bill a luxury tax break that would create a subsidy for wealthy Pennsylvanians.  The center says similar aircraft industry tax breaks have failed to deliver on jobs in other states.
https://www.pamatters.com/wp-content/uploads/2011/05/Pennsylvania_State_Capitol_House_Chamber.jpg
600
463
PAMatters
http://www.pamatters.com/wp-content/uploads/2014/10/logo.png
PAMatters
2012-01-24 17:47:17
2012-01-24 17:47:17
Lawmakers Say Eliminating Aircraft Tax Would Create Jobs
Welcome to PAMatters.com, a new source for news and commentary from Pennsylvania's capital. In addition to video, audio and pictures from the stories and events that affect YOU, you'll also get some behind-the-scenes analysis via blogs from our award-winning staff of journalists.