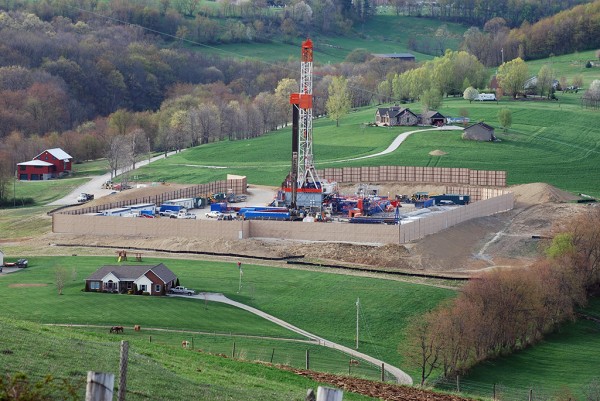 The Marcellus Shale plan that Governor Tom Corbett rolled out provides for an "impact fee" to be adopted by the counties where the natural gas drilling takes place.  In the first year, counties could impose a per-well fee of up to $40,000 dollars.  The maximum fee would drop over the next several years, but Corbett says the revenue would actually grow along with the number of wells. 
The County Commissioners Association of Pennsylvania (CCAP) supports the direction of Corbett's Marcellus Shale plan.  "Our only issue with the proposals is a significant concern that we have with the plan that the local impact fee would be levied separately by the counties," CCAP executive director Doug Hill said in an interview with Radio PA.  "It needs to be uniform, it needs to be consistent, it needs to be predictable, and that does not happen if it is county-by-county, with the potential for varying rates within the counties." 
Some lawmakers agree.  "This proposal only authorizes counties to impose a fee, it doesn't require them to impose a fee," says State Senator John Yudichak (D-Luzerne), the minority chair of the Environmental Resources and Energy Committee.  In a statement, State Rep. Mike Sturla (D-Lancaster) called the plan complicated and ill-conceived.
But Governor Corbett calls the structure of his proposed "impact fee" important to the package.  "If you bring the money here to Harrisburg first, history demonstrates to us that administrations and legislatures – the money goes into the General Fund – start raiding the General Fund for other budgets," Corbett explained to reporters on Wednesday.  "I believe the money needs to go where the impact is." 
Under the Corbett plan, 75% of the impact fee would be retained at the local level.  The remaining 25% would be divvied up among PennDOT, the Department of Environmental Protection, PEMA and more.
https://www.pamatters.com/wp-content/uploads/2011/05/marcellus_shale.jpg
401
600
PAMatters
http://www.pamatters.com/wp-content/uploads/2014/10/logo.png
PAMatters
2011-10-06 15:05:09
2011-10-06 15:05:09
Some Question the Structure of Gov's Impact Fee