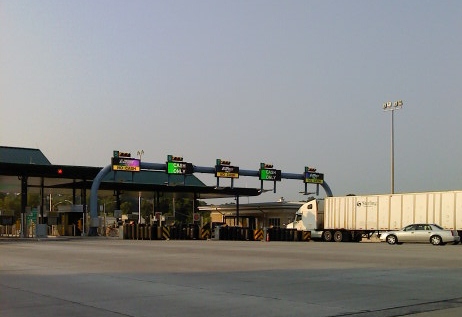 Turnpike speed limits max out at 65-miles per hour.  The limit is set by state law, but the House Transportation Committee has advanced a change that would give the Turnpike Commission the authority to raise speed limits up to 70. 
"It doesn't mean that it has to," says Rep. Joe Preston (D-Allegheny), the bill's prime sponsor.  "But to be able to give the latitude, if it so chooses in the different areas that have changed or improved, they can raise it from 65 to 70."
The Pennsylvania Turnpike Commission doesn't have an official position on the bill, but spokesman Carl DeFebo says roadway improvements – like wider medians and shoulders – do tend to be more conducive to higher speed limits. 
Driving 70-miles-an-hour on the Turnpike wouldn't be unprecedented either.  When the Turnpike opened in 1940 there was no speed limit.  The first speed limit imposed in 1941 was 70-miles-per-hour for passenger cars, but it was soon lowered.  DeFebo says the majority of the toll road has been under a 65-miles-per-hour speed limit since 2005. 
Preston's bill received an 18 – 4 vote in committee this week.  All four negative votes were cast by Democrats.
http://www.pamatters.com/wp-content/uploads/2011/07/0721111852a.jpg
317
462
PAMatters
http://www.pamatters.com/wp-content/uploads/2014/10/logo.png
PAMatters
2012-05-09 12:08:12
2012-05-09 12:08:12
Bill Could Pave the Way for Higher Turnpike Speed Limits